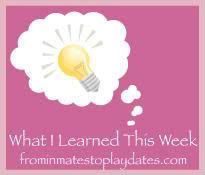 This week I learned a few tidbits of helpful information.
As always, I am sharing because that's just the kind of gal I am.
It's been a doozie of a week here at the McResidence. We've been away more than we've been home and we've been waiting on the Board of Education to make a decision regarding the first day of school at Stevie's elementary school. It is frustrating, especially when you recall voicing your concerns to the school board that the plan they were proposing had about a 9% chance of actually happening the way they said it would happen.
And by 9%, really what I mean is slim to none.
They 'proposed' the closing of a neighboring school, and subsequent move of those children to the school that my son attends. The school where I am again, PTA President. And they claimed to have it done by the time school started back for the fall.
The school grounds have been dug up, there are construction trucks everywhere, the contractor has until August 25th to finish up the work and the first day of school has been moved from August 20th, to August 23rd. Still, I have no earthly idea how they think children will be able to start back on the 23rd.
I didn't mean to launch into a tirade about the school system except to say that I've learned that my views reagarding the School Board are usually correct.
But I'm not one to say 'I told you so!' so I won't say it.
Instead, here are the things I learned this week.
1. While shopping at the annual consignment sale –  hyped up on all manner of adrenaline and competitive clothes shopping – it is totally possible to inadvertently purchase three of the exact same shirt in sizes 5, 6, and 8.
2. There is a 90 day warranty on Crocs. That means that even if your rougherthanacobbchild tears up his month-old Croc (and loses his Spiderman jibbitzin the process), the company will replace the Crocs for a new pair.
3. I learned the hard way that it is never a good idea to shed your hot, sweaty clothes before going into the bathroom.
4. When making a verbal business deal, it is absolutely imperitive that each person understands what the other is saying.
5. When purchasing transformer t-shirts at the beach, you should go ahead and purchase shirts one size larger than what you actually need because one run through the dryer and they will pretty much disappear.
6. Ants are very clever creatures. For instance, if your child drops a crumb of brown sugar and cinnamon poptart on the floor under his barstool, the ants will come out of crevices you didn't even know existed for their piece of the poptart pie.
7. If you spend the better part of thirty-six minutes killing and cleaning and disposing of dead ants, you can pretty much expect to spend much of your REM sleep that night dreaming about ants.
8. After spending thirty-six minutes killing and disposing of ants, then dream about them all friggin' night, your first task of the day will be heading to the Dollar General in search of something to rid your house of them.
How's that for some learning?
Linking up for the first time? Click here for the complete long-winded version of the carnival rules or just read the shortened version, here.
1. Any time this week, publish your What I Learned This Week post on your blog and link back to my blog. The button is optional, but so cute, so you might as well.
2. Link up with the Mr. Linky form below this info. Please remember to link to your actual WILTW post, not the frong page of your blog.
3. Then, visit the other participants to learn what they learned this week. And, for added excitement, leave a comment or two. Or twelve.
Ok, I think that's all.