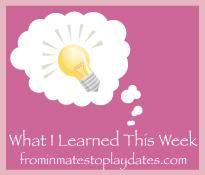 Last weekend while we were in Florida, Stevie and I accompanied two brothers-in-law to a Major League Baseball game.
As far as baseball goes, it was a biggie.
Or so I was told.
Because me? I know nothing of baseball unless you count the fact that I've thought Derek Jeter was a hottie ever since I saw a picture of he and Mariah Carey on The View several years ago.
The New York Yankees were playing the Tampa Bay Rays and my brother-in-law, Mike, happens to be a huge Yankees fan. When he discovered the Yankees would be playing in Florida the same week we would be there he asked if any of us were interested in going. I myself had no desire to sit in the hot sun for nine L-O-N-G innings, but Stevie was all over the idea.
But when Mike mentioned that the field was actually an indoor stadium I was all, "Sign me up!"
And so this week's What I Learned This Week post was born at Tropicana Field in Tampa, Florida.
I present to you the things I learned at the baseball field.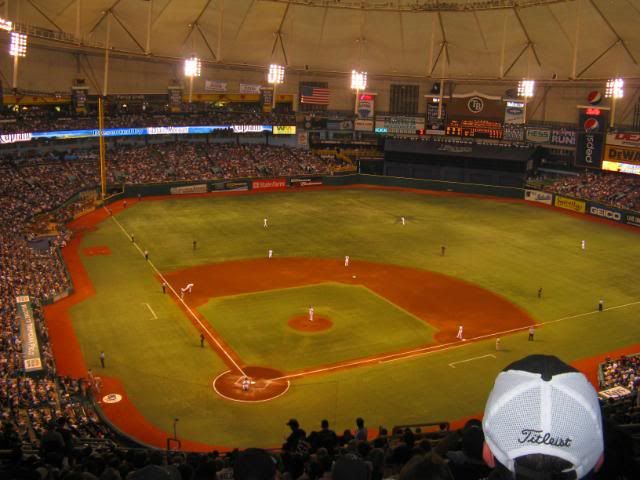 1. When you show up to a baseball game played by the New York Yankees and the Tampa Bay Rays wearing a bright orange shirt, you will stick out like a sore thumb.
Ditto if you happen to be wearing a Titleist hat and sitting directly in front of someone trying to snap a picture.
2. If A-Rod has made 599 career home runs and is up to bat, you can expect to see hundreds of flashes every single time he bats.
3. If A-Rod is playing in a baseball game and could possibly make his 600th career homerun, there is a good chance that blocks of seats (deep in the outfield) will be purchased by folks hoping to catch the coveted 600th home-run ball.
4. Because according to the guy behind me, the 600th homerun ball batted by A-Rod would "easily be worth about $100,000 and your chance of catching that ball is much better than your chance of winning the lottery."
Wellalrightythen.
5. When you are sitting behind home plate seven rows from the VERY TOP FOR GOODNESS SAKE, there is no chance whatsoever that you will catch the 600th ball batted by A-Rod.
6. Regardless of where you are sitting Derek Jeter is indeed a hottie.
7. You are not able to purchase Yankee paraphanelia at a Tampa Rays home game unless you purchase something from the robber sorry sap selling stuff at a fold-up table outside of the stadium field.
8. A bag of Cracker Jacks at a Major League Baseball game will set you back $5.00.
9. You can expect to pay at least $20.00 for parking. $30.00 if you wish to park close to the entrance because it is 319 degrees outside and chances are pretty good that you'll faint before making it inside.
10. Apparently when the Tampa Bay Rays are playing a less popular team, the cost of parking and seats is not nearly as expensive as when they are playing the Yankees.
11. I am all about the stealing of bases at a baseball game because that is much more exciting than the mundane hum-drum of balls and strikes.
12. The seventh inning stretch would be more effective if it were, oh, I don't know, called the fifth inning stretch because by the seventh inning my legs were cramped and my foot was asleep.
13. The player between second and third base is called the short-stop.
Which explains why Derek Jeter hangs out between second and third base.
14. The speed of a pitch was approximately 90 mph.
That is shocking to me.
15. Nick Swisher, an outfielder for the Yankees is a West Virginia boy. He graduated from Parkersburg South High School which happens to be about 45 minutes from where we live.
Now it's your turn to share!
Please remember to link directly to your What I Learned This Week post and not to your blog home page.