Back in 1997, just after graduation from college, McDaddy took a position with Honeywell.
In Ashland, Kentucky.
It was about an hours drive from West Virgnia, yet, for the first year of our married lives, we called it home.
And since we're back in Kentucky visiting this week and I'm fresh out of ideas for Thursday Thirteen, I thought, hey, why not?
So, I present to you thirteen things you should know about the great state of Kentucky.
1. McDaddy and I were residents of Flatwoods, Kentucky for one year. We lived here (in the middle townhouse) and our phone number was 836-8365.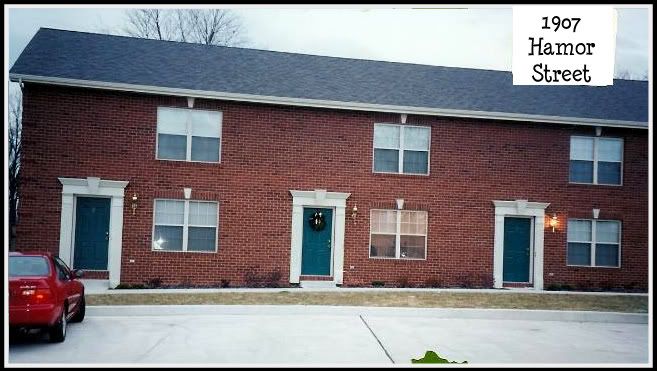 2. Flatwoods, Kentucky is the home of Billy Ray Cyrus. There is a sign stating so. The year we lived there, he was the grand marshall of the Christmas parade.
Mullet and all.
3. Last night, the McFamily ate at Tumbleweed in Maysville, Kentucky. There is a smoking and a non-smoking section at the restaurant. I think smoke is nasty. Smoke in a restaurant is doubly nasty.
Kentucky, you need to do away with that smoking in a restaurant business.
4. Pikeville annually leads the nation in per capita consumption of Pepsi-Cola.
Well, that's fun.
5. Post-It Notes are manufactured exclusively in Cynthiana, Kentucky. The exact number made annually of these popular notes though is a trade secret.
The fact that it's a 'trade secret' makes me want to know it even more.
6. More than $6 billion worth of gold is held in the underground vaults of Fort Knox. This is the largest amount of gold stored anywhere in the world.
7. The Chevy Corvette (McDaddy's favorite automobile) is manufactured in Bowling Green, Kentucky. In fact there is also a Corvette Museum there, too.
8. When we lived in Kentucky, I was the human resources officer for a company called PCI (Primary Colors Incorporated) which manufactured the color blue. Technically, they manufactured blue dye which was used in textiles, paints, and anything else you can think of that is the color blue, but before working there, it never dawned on me to think about how colors were made. Inevitably, the blue dye was everywhere. (When a person *ahem* sneezed the debris inside the tissue had a blue tint to it.)
Sick, but true.
9. The first cheeseburger was served in Kentucky, but I can't recall where.
10. The first KFC was in Corbin, Kentucky.
11. Maysville, Kentucky (where we are currently staying) is home to George Clooney's family. George co-owns Maysville Productions which is housed on the Warner Brothers lot.
12. The song 'Happy Birthday To You' was written by two sisters (kindergarten teachers) from Louisville, Kentucky. The tune is the most recognized song in the English language.
13. Steven Curtis Chapman is from Paducah, Kentucky. Oh, and just in case you are wondering, he is an awesome performer.
Happy Thursday, y'all!