I know y'all are probably tired of reading about our family trip to Florida.
I promise after this post, I won't mention it again for a long time.
This little list came to me during our FOURTEEN hour stint in the van on our way home from Florida.
I present to you thirteen F-words that remind me of vacation.
1. Family – It is no secret that McDaddy has a big, honkin' family. We enjoyed lots of family time and the cousins enjoyed playing and swimming together.
2. Fussing – We had a total of seven babies under the age of two. It should come as no surprise that the babies were not always happy. There were a few moments where the babies showed their discomfort with being away from their homes and their surroundings.
3. Food – Sweet Holy  Moses there was enough food consumed to feed the entire country of Belize for a week.
4. Feedings – With three babies under the age of five months, there were plenty of nursing sessions around the pool and on the beach. Three babies, every three hours = Busy nursing mamas.
5. Floatation Devices – The corner of the pool area looked like the swimming aisle at the Mart of Walls. Floaties, rafts, life jackets, dive sticks, water bombs, goggles, noodles, and swim rings. There was something for everyone. It's hard to believe that every bit of this crap belonged to us. It was quite the sight to behold.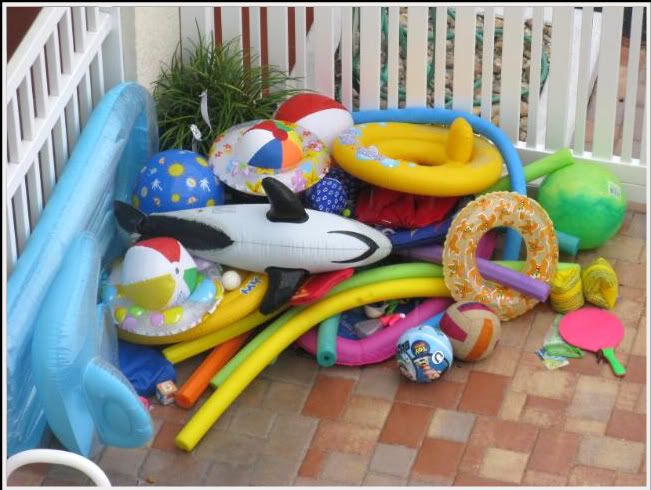 6. Facebooking – Yes, I said facebooking. Most late nights were spent gathered around the dining room table talking, posting pictures to facebook and writing on eachother's walls while sitting across from one-another.
7. Folding – We were blessed to have the use of a washer and dryer. The pair stayed pretty busy and there was rarely a time when someone wasn't folding their laundry at the dining room table.
8. Finaggling – The ten of us (McDaddy's siblings and their spouses) spent one whole afternoon figuring up who owed money to whom, and for what. There was the catering bill, the anniversary gift purchased for the inlaws, the anniversary dinner cake, Yankees tickets, shared rental cars, shared hotel rooms, and on and on and on. Needless to say there was lots of financial finaggling to be done.
9. Fortieth – The whole purpose of the family vacation was to celebrate the inlaws' fortieth anniversary. This was the 100% edible custom cake designed by Stephanie at All About Sweets in St. Petersburg, Florida.
10. Fifteen – grandbabies under the age of eight = LOTS. OF. CHAOS. and also lots of blessings.
11. Fotos – One beautiful evening was spent on the beach taking a family portrait. Each of us wore coordinating colors and believe it or not the family picture was pretty quick and painless. I myself took well over 300 pictures for the week. Of course I don't have any of the entire family pictures because I was actually in the picture.
12. Fun – We had a wonderfully, relaxing week with lots of family time. We participated in a shuffleboard tournament, and some of us visited Busch Gardens, Magic Kingdom, and a Yankees game. There was miniature golf, movies, Wii playing, playing in the sand, and lots of swimming.
13. Facial Injuries – On two seperate occasions occurring on two different days, Stevie received two black eyes.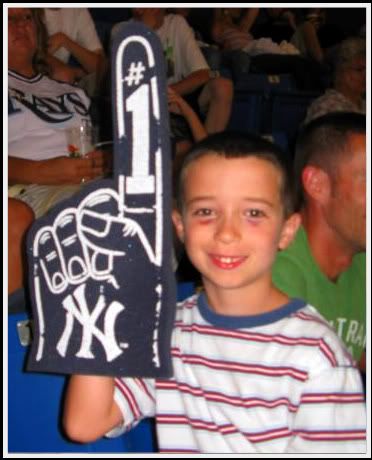 Seems my sweet boy has his mother's knack for freak accidents.
Happy Thursday, y'all!