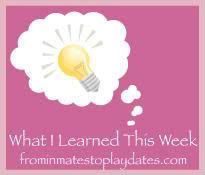 It's another post from the road. Can you believe WE ARE STILL DRIVING?
We are still ONE WHOLE HOUR AWAY from the hotel.
At least sixty more minutes.
Stella has lost her groove.
And she's grumpy.
Thought this might be a great time to share lessons I've learned from the passenger seat. I need to warn you though. The information shared will be of no use to 94% of my reader population.
1. I really like Bonnie Raitt. I had totally forgotten about her until I heard her song, Let's Give Them Something To Talk About.
2. The new Ford Taurus is not on my list of cool cars.
3. The stretch of North Carolina that one must drive through when driving from West Virginia to Florida, has not 3G. This makes playing Words With Friends and looking at pictures on the Facebook challenging unless you enjoy starring at a screen watching a white circle go round and round and round.
Which I don't.
4. Cheezit Snack Mix is pretty tasty but should not be eaten without something to wash it down with.
5. If the Dodge Caravan allowed about two more inches between the passenger seat and the dash board, I could comfortably rest my feet on there without bending my knees.
6. I love the song 'Give Me Your Eyes' by Brandon Heath. It is among my top five favorite songs.
7. There is more JUNK on the radio than there is actual music.
8. Safelite must spend millions on their radio advertising because we've heard their ad three times in the past forty minutes.
9. I hate traffic. Especially the stopped kind.
10. When my feet are propped up on the dashboard and my laptop is on my lap, I have about 9.3 minutes before my feet are totally asleep.
11. The iPhone is a great little gadget to have on long trips. Words With Friends is a must.
12. I often wonder if the invention of the GPS put a hurtin' on Triple AAA's business. Our GPS is a Garmen and McDaddy calls it Carmen.
13. I have not seen even one Saturn Sky in 862.9 miles.
14. 862.9 miles is JUST ABOUT MY FREAKIN' LIMIT folks.
There. I said it.
What did you learn this week? I'd love for you to share! Please link directly to your WILTW post, and not your blog in general.