We are at the beach with McDaddy's family and we are having a blast.
We went to Busch Gardens yesterday (Many thanks to the Busch bunch for offering free admission to military service members and their families. AND IN THE INTEREST OF FULL DISCLOSURE, I am not receiving any compensation for mentioning that fact, I'm just very thankful for their commitment to the military and hope to spread the word!) and I am one tired mama. Before dragging myself to bed, I mustered up just enough energy to edit a few shots for this week's You Capture challenge which just so happens to be PLAY!
And people, I am not playing around when I say I am dead dog tired.
Only I'm not a dog.
Nor am I dead.
But I'm not far from it because we walked for miles and miles in the blazing hot humidity (OH MY WORD IT WAS SO FRIGGIN' HOT!) and the early morning, midday and evening sun and even a quick rain storm that lasted long enough to soak yours truly.
McDaddy has four siblings and between the five of them, there are fifteen (15!) grandkids. The entire family (plus a few extras) are spending the week together here in sunny Florida.
Of all the topics that could have been assigned this week, PLAY is just perfect for this special time we are spending together, playing, laughing, eating (oh my word are we eating?!), and visiting.
While waiting for our family portrait on the beach my sweet Stevie (shown holding the yellow DS) plays DS with his cousins.
And speaking of cousins… Can you just imagine the amount of chaos play taking place this week?
And speaking of play, the family is having a shuffleboard tournament this week. We are playing shuffleboard round the clock to get the brackets filled in. For those of you keeping score, you can mark it down that McDaddy and I have been eliminated from the tournament. Pictured here are my sisters-in-law, Michelle and Stephanie. (Hi Girls!)
And of course, no beach trip would be complete without lots of playing in the pool! [Note: My sweet boy was not in the pool alone even though it certainly appears that way. I snapped the picture while hanging out of our third story window!]
While playing around with the settings on my camera, I took this shot from our balcony on Sunday.
The thunder and lightning were playing around with the atmospheric pressure just before the actual storm hit.
And speaking of playing.
Here's Stevie playing baseball on the beach with his Uncle Mike, and cousins, Mallory, Zachary and Noah.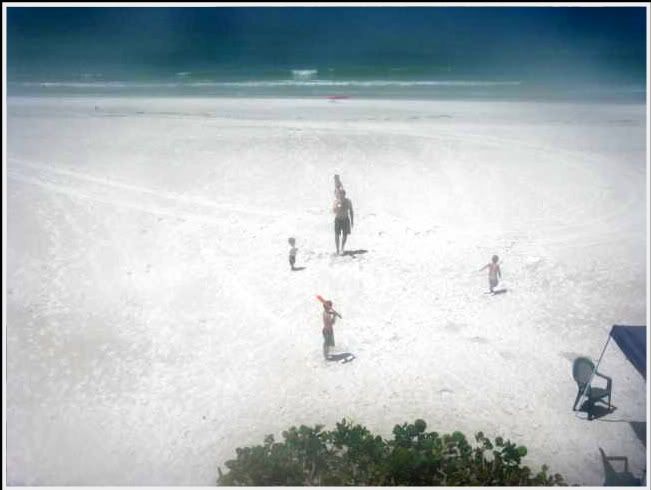 And guess who mentioned the word PLAY at least thirteen times in this post.
Yup, you guessed it. Thursday Thirteen.
There you have it.
Two birds. One stone.
I don't play around when it comes to efficiency, folks.
[Fess up. How many of y'all scrolled right back up there to the top to double check my math skills?]