A few days ago, I posted about a bloggy swap I was participating in.
The red, white and blue swap, hosted by Our Dandelion Wishes is taking place this week and packages are arriving on doorsteps all over the United States. Because of a glitch in scheduling (on my part!) my partner and I sent our packages a few days early.
The only instructions given were that each item had to be red, white, or blue, or all three. (Well, if you've ever participated in a swap hosted by Mamarazzi, you know there are hundreds of instructions, but I'm all about organization, so the instructions make me smile!) I was paired up with DivaEva from Daily Dose of Eva.
It seems she doses out a daily dose of Eva. And I dish a daily dose of crazy here at my place, so as you can probably imagine, we make a great pair!
I received my swap package on Friday. Can I just say that Eva went above and beyone with this little package. First of all, it was filled with little red, white, and blue metallic stars and blue tissue paper. It also included a sign that said, red, white and NEVER blue! I loved that and thought it was a sweet touch! Oh, and there was bling!
I just love getting a box of unique goodies, especially goodies that each have a note attached to them. I tore through that package like I meant business. Before unwrapping the stuff, I managed to snap a picture of the note Eva sent.
And just have a look at all of this great stuff!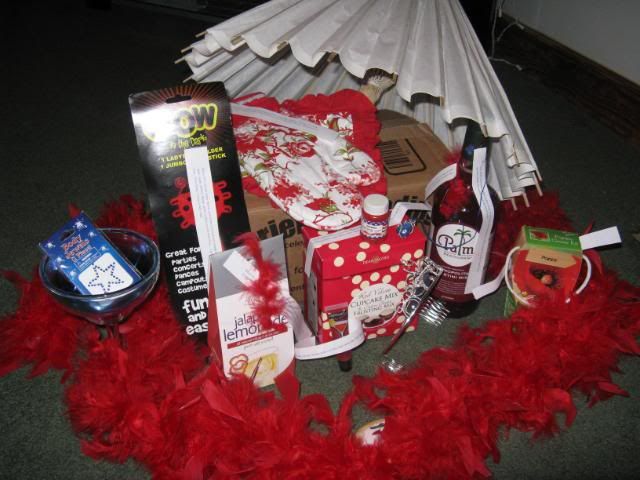 I was like a kid in a candy store.
Do you see the red box with white polka-dots? That happens to be a box of red velvet cupcakes. That's not what I want you to see though. If you look just in front of the red box with white polka-dots, you'll see this little jewel, which just so happens to be my favorite thing about Eva's swap package.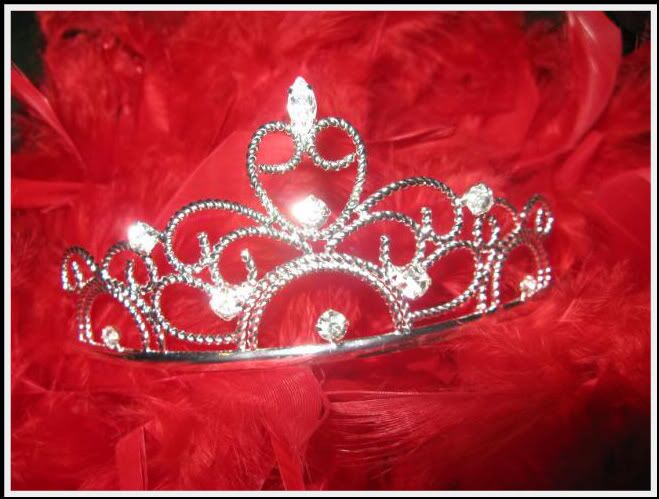 Can you believe that?
My very own tiara.
I squealed with delight, y'all!
With delight! I couldn't believe Eva sent such a wonderful little gift!
And look what else was in there…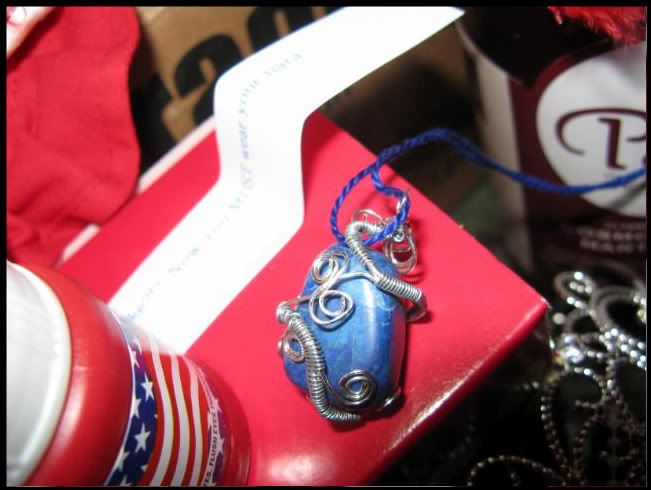 This is a hand-crafted "charm" (that I intend to wear as a necklace) made by Eva's best friend. I just love that it is one of a kind!
Oh, and did I mention she sent me a tiara? Because she totally did!
And I might or might not have spent the better part of an hour snapping candid pictures of myself in the tiara before going to bed on Saturday night.
I'm a nerd, oh yes, I am!
Because just look at this thing.
So sweet of her to send that! I just love it!
The tiara is propped up on a 'white' paper umbrella that is decoratable (is that a word?). I have never seen anything like it, but it is very unique and I will treasure it.
Oh, and just in case you forgot, I got a tiara.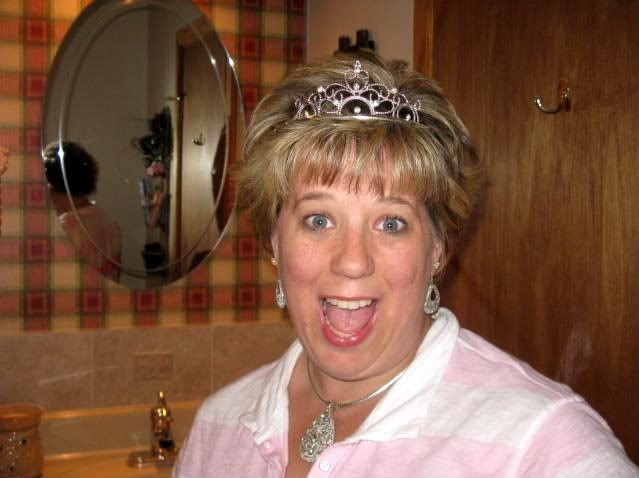 Here's another picture of the goodies.
1. Little white paper umbrella
2. Red poppy grow kit
3. Red Boa
4. Really cute oven mitt and potholder
5. Little red bottle of bubbles
6. The custom "charm"
7. Red Velvet Cupcakes
8. Glow In The Dark Jumbo Glow Stick shaped like a ladybug
9. Jalapeno Lemonade (unique, I tell you!)
10. Body jewels (blue star) which I may wear as a tramp stamp on our camping trip this weekend just for kicks!
11. Blue martini glass
12. Pomegranate martini lipgloss
13. Oh look! It's a tiara.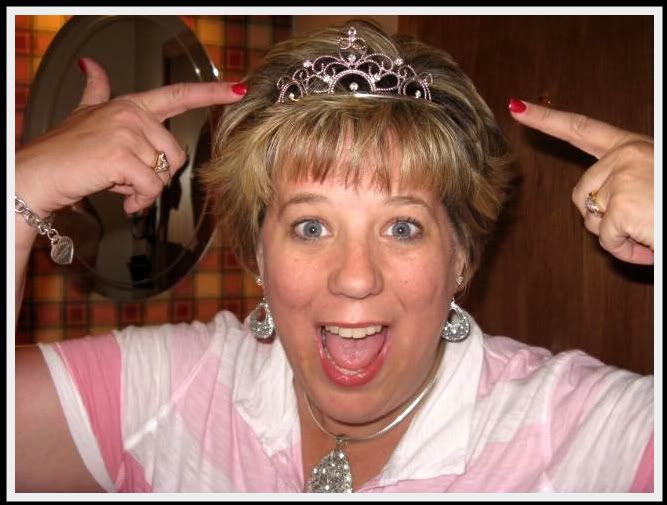 14. Cosmopolitan Martini Mix (Can you mix that stuff with sprite?)
15. The empty box
Wow. Just wow. I was overwhelmed with all the great stuff.
Especially this cute little booger.
Raise your hand if you think Queen Elizabeth takes candid pictures of herself in her crown? I bet she does because I'm telling you its a blast!
I guess it's safe to say I enjoyed Mamarazzi's red, white, and blue swap! I appreciate Eva putting a rush on my box so that I could post before leaving for the week!
Before sending Eva's stuff a packin' I decided to wrap each item and include a short poem.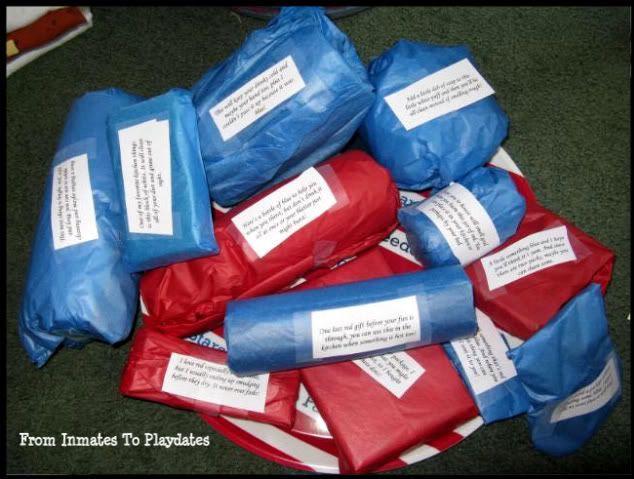 My box of goodies included a rubber pot holder, a blue plastic freezer cup, Blue Raspberry twister, Red, white and blue DOTS, a white shower puff, a fluffy red hand towel, red nail polish, a white magic eraser, blue Dentyne, a flag key-chain, a serious red, white and blue earring set (I say serious because the hoops were huge but I couldn't pass them up because? hello, they were red, white, and blue!), and a candy apple red candle. I hope Eva is enjoying her goodies!!!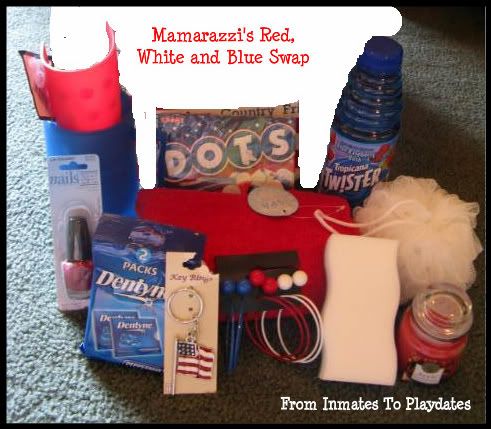 A big thanks to Eva for swapping stuff with me and to Mamarazzi for hosting another great swap!!! You can check out other swap partners over at Our Dandelion Wishes!
Bloggy Swaps work for me!
This post is linked to Works For Me Wednesday over at We Are THAT Family!