For my mom's birthday, a friend of hers made a really cool birthday cake out of candy bars and various little pieces of candy.
That evening she brought it to dinner because she knew my boys would love it.
Every waiter and waitress that passed our table stopped to admire it and asked if we sold them.
A few weeks later, I made one for my sister-in-law, Bridget.
First, you'll need approximately 19 candy bars, an assortment of mini candy bars, Hershey kisses, peppermints, and whatever else you might want to include, as well as aluminum foil, a glue gun, 3 Styrofoam rings from Michael's or some other hobby store for flowers, ribbon, scrapbook stickers or foam stickers, as well as a tiny bit of patience.
Begin by covering the styrofoam rings with aluminum foil like so.
Then, carefully hot glue candy bars around the edge of the styrofoam foil wrapped rings. (Try saying that three times real fast!)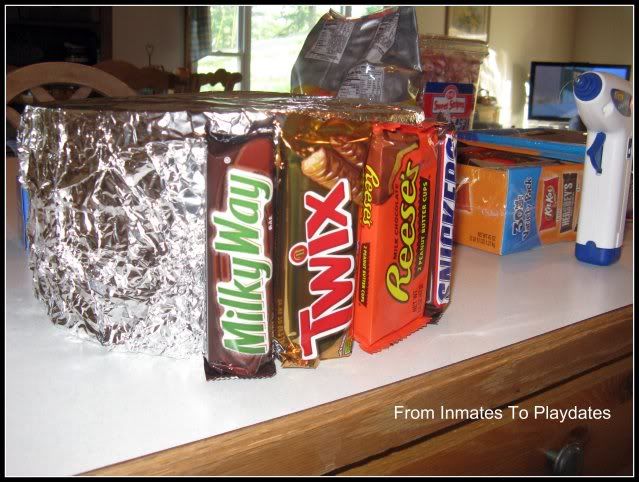 If you have a quality glue-gun, you can continue on your merry way until you get the styrofoam rings covered. If you decided however to splurge on a new-fangled cordless glue gun, the gun will probably give out after the fifth or sixth candy bar and your birthday cake will have to wait until another day as was the case with this cake.
After covering the rings with candy bars, fill in the spots above the shorter candy bars (Kit Kat and Snickers) with miniature candy bars. Cover the entire top of the cake with peppermint candies and miniature candy bars.
Wrap a colorful piece of ribbon around the cake, hot-gluing it to the candy bars.
[NOTE: I attempted to drop a strip of hot-glue on the top and bottom of the ribbon for the entire length of the ribbon. This resulted in a serious burn on my thumb when the ribbon wrapped itself around my fingers.]
Next, add scrapbook stickers or foam stickers on top of the ribbon. In my case, the letters read, "Happy Birthday, Bridget"
After the top is covered carefully hot-glue candles on the top of the cake.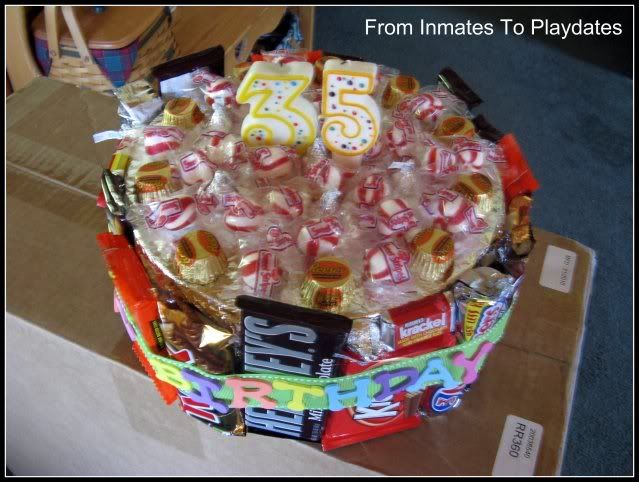 For other Work For Me Wednesday posts, head over to We Are THAT Family.