Each week I try to come up with something creative and intriguing for Thursday Thirteen and each week I wonder if I'm hitting the mark. While I have a whole list of Thursday Thirteen ideas to choose from, the fact is, I'm not in the mood for any of them. It's been a difficult day and my nerves are shot, so I'll keep this short and sweet.
Remember last week when I mentioned that me and my van had some sort of disagreement on the big honkin' hill?
Well.
While driving home today (at a high rate of speed on the interstate mind you) the van and its gas pedal decided it might be fun to play a trick on this ole' gal and it got hung up somewhere between 68-70 mph.
Shut Up.
I'll give you a minute to re-read that sentence to make sure you read it correctly.
Yes. You. Did.
Two words for you.
Scared. Todeath.
The cruise control was set at 70 mph and I had just hung up with McDaddy who was headed home from his second home Pennsylvania where he was been working 3-4 days each week for the better part of 2010 when I tapped the brake to disengage the cruise and change lanes.
Only the cruise did not disengage and the van did not slow down even though my foot was attempting the shove the brake through the floor board.
Within seconds I became keenly aware of every vehicle around me. I assessed how much room I had to get stopped, how close the vehicle behind me was and the fact that ten seconds or so later the van was still not slowing down.
Quickly I ran through my short list of options, which included, throwing it into park, throwing it into neutral, and freaking out. I can tell you that freaking out seemed like the easiest option. Which is exactly what I did shortly after getting into the emergency lane and throwing the gear shift into neutral.
The conversation with McDaddy on my beloved iPhone went something like this.
ME (WITH HEART RACING): Hey, the brakes on the van went out and I'm sitting on the side of the interstate in the emergency lane.
MCDADDY: Did the brakes go all the way to the floor? Is the cruise control still on? Is the van in park? Did the idiot lights come on? Can you drive it at all?
ME: Um, I don't know. I don't know. I don't know. I don't know and I don't want to at all because ITS NOT SAFE AND I MIGHT DIE!
MCDADDY: We'll its obviously time to trade that thing in on a Jeep.
ME: Um, okay. As long as it runs.
MCDADDY: Keep your foot on the brake and start it up.
The engine ran as if it were still going 70 mph.
MCDADDDY: Keep your foot on the brake and push the gas pedal.
The engine returned to normal and I watched the tachometer (or whatever its called) decrease from 3 to 1.
It is worth mentioning that a situation such as this would not have been a challenge for McDaddy. He possesses the wherewithall to take charge of emergency situations and make quick decisions. I, on the other hand, require a list, a sharpie, a calendar, and at least a 24-hour notice.
This was seriously one of the scaredest (yes, its a word!) events in my life and no, before you ask, I do not drive a Toyota.
I am happy to report that the van is now tucked safely away in the garage and as is always the case in a situation like this, the thing ran perfectly normal for McDaddy as he brought the hunk of junk thing home.
So, with that being said, I do hope you'll excuse the fact that I am walking down Random Road tonight.
1. One of my favorite iPhone APPS is Words With Friends. It's a Scrabble type game and if you are a member of the iCult, er, I mean iClub, you can do a search for JulieWV and we can get a game started. Oh, and if you're looking for about 72 points, play the word Jeep on the triple letter, triple word spaces. YeeHaw!
2. My heart is heavy for my BFF, Becky and her family, who lost their aunt earlier in the week. Death is so stinkin' tough. Cancer, you suck!
3. While I really love watching American Idol, I do not have a clear favorite this season. I like Big Mike and I think Crystal Bowersox rocked it out tonight!
4. My McDaddy is the original McDaddy. 
Just sayin.
5. While she would not have been my first choice based on her lack of musical experience, Ellen is doing a pretty good job as Judge #4 on Idol.
6. And speaking of crazy words, I learned a new one today – encopresis.
I'll give you a second to look that up. Never heard of it before but saw it on the Facebook and did what I do when I'm on the hunt for something. *coughgooglecough*
7. Apolo Ohno will be on Jay Leno tonight. I will have to DVR it because sadly I've spent one too many late nights in front of the TiVo watching my boyfriend Apolo Ohno go for the gold, which he looks good in by the way.
Well, he does!
8. Some girlfriends are coming over tonight to decorate my newly remodeled basement walls. I have purchased some really great stuff but have no idea how to make it all work and pull it all together. So, weather permitting, I might have some pictures to show you very soon! (Hi, Susan!)
9. At this very minute, McDaddy is sitting on the couch with his laptop looking at used cars on the internet because that's what he does at the first hint of a car situation. He's found a copper colored Mazda 6 that is a six-speed. Oh, and it is a front wheel drive that will "do just as good as your van if not better on the big, honkin' hill!"
Can you say Saturn Sky?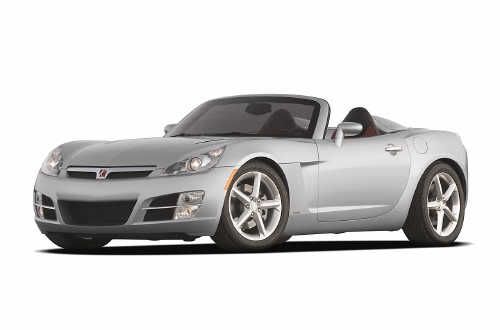 10. This post is at 1,011 words, so much for short and sweet.
11. My nephew, Isaac Cade is 2 years old today (as of this writing on Wednesday). Happy birthday, buddy!
12. The random isn't flowing as easy I thought it would. Of course American Idol and Words With Friends are battling with the randomness, but still.
13. More snow today, are you kidding me? Enough already!
I hate to end things on such a cold note, but, that's just the way the random rolls, I suppose.
Care to share something random today?