Anyone that knows me, would tell you that I am not easily excited.
Which is good because I received some news last week that could have caused me to SHOUT for glee if I were the type to get excited over the least little thing.
Luckily for those riding in the car with me when I received the news, I rarely raise my voice either.
But, more about that a bit later.
We are just back from a wonderfully chilly relaxing week in Florida which means that Spring Break, 2010 is over and it's back to the proverbial grind here at the McResidence.
Basically, that means that my week of sleeping late and doing pretty much nothing is but a distant memory, and as of 6:30 this morning, the McBunch were thrust back into the hustle and bustle of the busy life that follows McDaddy and I everywhere we go. A life that includes work, appointments, scouts, PTA, cooking, cleaning, laundry, and homework. Not to mention there are countless bags that still need to be unpacked.
But, of course, I AM NOT complaining, because I do not complain.
Ahem!
I did NOT get all giddy when I received an e-mail from Jo-Lynne at Musings Of A Housewife asking if I would like to take over her What I Learned This Week carnival.
Likewise, I DID NOT squeal with delight when she modified her What I Learned This Week button to match my blog design.
Hear me.
I DID NOT SQUEAL with delight.
But have a look at this sucker.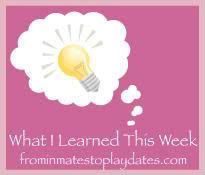 Isn't it cute?
Yes, I thought so too!
So, consider this your engraved invitation to join me TOMORROW for my very first installment of What I Learned This Week, hosted right here at From Inmates To Playdates.
Oh, and because I am not easily excited, I may or may not be hosting a giveaway to go along with tomorrow's carnival debut.
I hope to see you there!
This post is linked to MckMama's Not Me! Monday carnival.