I am a happy girl tonight.
The folks from Slowes, er, I mean Lowes showed up here at the McResidence with two ginormous rolls of carpet for our new playroom/rec room. Remember this red and yellow walls I showed you a few weeks ago?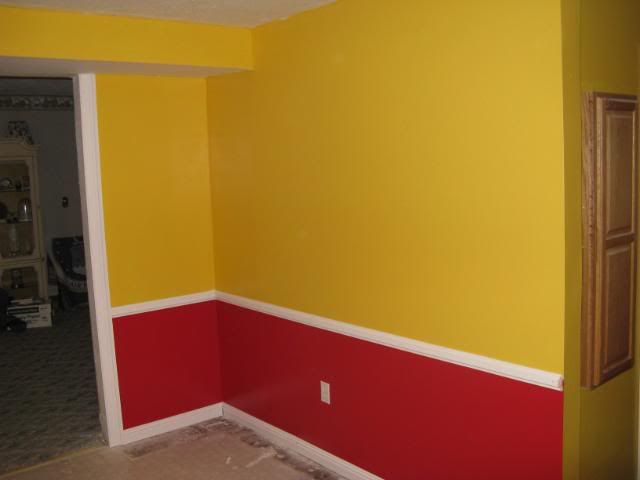 Well, I learned that while the red and yellow paint does indeed look fabulous, adding the white trim will make the paint pop. And then earlier today I learned that having the carpet installed transforms the room completely. Seriously, the room looks wonderful.
Then about thirty minutes ago, I conned McDaddy into applying the Wall Words in the playroom. Great words that are so fitting for our family.
Just after that, while McDaddy showered, I decided to take matters into my own hands and hang some pictures. I am smiling just thinking about the pictures and how awesome they look hanging around in there. I don't watch much HGTV but the room rivals (in my humble opinion, mind you) the rooms you see on that network and I'd be willing to bet that we did it much cheaper than they because we did most of the work themselves.
I would love nothing more than to post 423 pictures of the finished area but it is late and I am tired. And, on top of that, I have four boxes of girl scout cookies hiding out in the corner cabinet and I intend to show one of them some love in a bit. Taking all of that into account, I'm sorry to say that the big reveal will have to wait. And, dare I say that my mind is already racing about our next remodel project which will include new flooring in our laundry room (area?) and a newly reconditioned bathroom. After that, we'll turn a huge junk room into a beautiful mud room which I have already decorated in my mind.
So, just to recap, I learned that fresh paint makes a room look good.
Crisp white trim makes the room look better.
Carpet, wall words and pictures make the room look better AND COMPLETE.
Oh, and I also learned that the more girl-scout cookies you buy, the more girl-scout cookies you will eat.
Just sayin.
Visit Musings Of A Housewife for more lessons learned this week.
Oh, and I also learned that when there are girl-scout cookies on the mind, it is totally possible to publish a post without giving it a title.
Ahem.