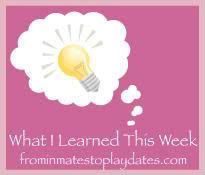 Welcome to my very first edition of What I Learned This Week! I'm thrilled that you've decided to join in the fun!
I wanted to do something really fun and entertaining this week, what with it being my first week as host and all. If you know me IRL, you already know that I'm 74% crazy 100% of the time. So, with that in mind, here's what I've learned about men and relationships.
The first thing I would suggest if you are unmarried is to be very careful when choosing a man. You can save yourself a great deal of time, money, and heartache if you get it right the first time! We'll start with the obvious and move-on to the not-so obvious.
1. MONEY – Lots of gals I know have spent countless hours trying to find a good man with deep pockets. As if somehow money would/could solve all of the problems life throws their way, and guarantee financial security. Remember the phrase, "Money can't buy you happiness?" Well, as it turns out, you can bet your bottom dollar (pun intended!) that indeed, whomever penned that phrase knew what they were talking about. While money is nice and fine and happy and awesome, all the money stored at the US Mint couldn't buy you a lifetime of happiness and contentment. Eventually, it takes more than money to make a marriage work.
2. LOOKS –Most women I know enjoy looking at a man who is tall, dark, and handsome. Or if you're like me, just handsome. As is evident in many of my posts where I talk about my boyfriends, Maksim Chmerkovskiy, Don Diamont, Apolo Ohno, and Shemar Moore, I think handsome men are fun to look at. It is also worth noting that McDaddy is the hottest guy I know. Funny thing is, he gets hotter everyday. While a handsome man hanging off of your arm will make you look good, good looks don't really mean a thing if he's a joner (which is my word for someone who isn't up to par!) or a jerk. Once age creeps in the door, just behind marriage and parenthood, those looks could change in a day, so its better to be attracted to a man for his personality.
3. BRAINS – While looks and deep pockets are typically first out of the gate, can I just take this opportunity to let you in on a little secret? Intelligence is very important. Especially when you consider the fact that intelligence reflects on the first two topics of discussion. Who wants to be with a guy – no matter how rich he is – if he hasn't a lick of sense? Likewise, how many gals do you know who are interested in hanging off of the arm of a fella who is cute as Christmas, but dumb as dirt?
4. ROMANCE – Aha! Romance. If you had asked me fifteen years ago, romance would probably have been real far up on my list of things I look for in a man, because seriously, who doesn't enjoy a romantic surprise every now and again? Often, we gals gather around a table comparing stories of the romantic things our men do for us, other times we gals complain that there is not enough romance in our lives.  While romance is wonderful, it can often be lost in the everyday hustle and bustle of life. So, chances are romance during dating is probably not a good predictor of how romantic a man will be once he is married.
———-
After twelve years of marriage, I can honestly say that I wasn't the least bit prepared for the things I would face with this man that I now call my husband. One of the things I am so thankful for is that McDaddy is pretty handy around the house. Anytime we are in the midst of yet another home improvement project, he dives into it with determination and precision, saving us all kinds of money. He is the kind of guy that has the 'know how' and the 'want to'.
5. KNOW-HOW & WANT-TO – This is a biggie!
Did you hear me?
I said, "Know how" and "Want to." These two phrases are mutually exclusive, but they are very important when used together. The 'know-how' doesn't mean a thing if you you don't have the 'want-to' needed to get the job done. Luckily for me, McDaddy possesses both the 'know-how' and the 'want-to' gene.
Early in our parenthood careers, I was reminded just how important these two are. While playing outside with his cousins, our oldest son, Stevie, tipped a plastic riding toy backwards and fell onto an acrylic dog-bowl. (Yes, I said dog bowl.) Immediately, I heard the words, "He's bleeding." Seconds later, I lost my ever-lovin mind. Holding my sons blood in my hands, I was sure his cranial shell was shattered.
Dramatic?
Well maybe.
But, as you may recall I admitted to being 74% crazy 100% of the time.
Once we arrived at the Urgent Care, part of our responsibility as parents of this sweet child with a busted head was to hold him down, first while they administered the numbing shot, and again when the medical staff stitched the wound. At that very moment, I looked deep into McDaddy's big brown eyes and thanked the good Lord that he had sent me the perfect man.
At that moment, he was calm, gentle, and level-headed.
Everything that I wasn't in Room 3 at the Urgent Care.
When I was thinking of picking a husband, you can bet I never thought about how my sweet huband would react in a situation like this one. The fact is, there will be times that you will need to depend on your hubs to take care of business that you don't have the ability to take care of. McDaddy is everything I want in a husband. He's handsome, he's romantic, he has the 'know-how' AND the 'want-to', he takes care of business, and he is certainly the smartest man I know. As for the money situation, we've got what we need and he is a great provider. The fact is that I am rich in love, and and richly blessed.
If you're in the market for a husband, it is my hope that you find exactly what you're looking for!
——-
What did YOU learn this week? Please link directly to your WILTW post, not to your main blog page, and don't forget to link back here to From Inmates To Playdates! If you need help with any of that, want to grab the button, yada, yada, yada, you can get help right here!
AND, (if you're still reading, bless your sweet soul!), to celebrate the kick off of What I Learned This Week, I'm giving away two (2) Longaberger bags. One to a random commenter and the other to a lucky linker.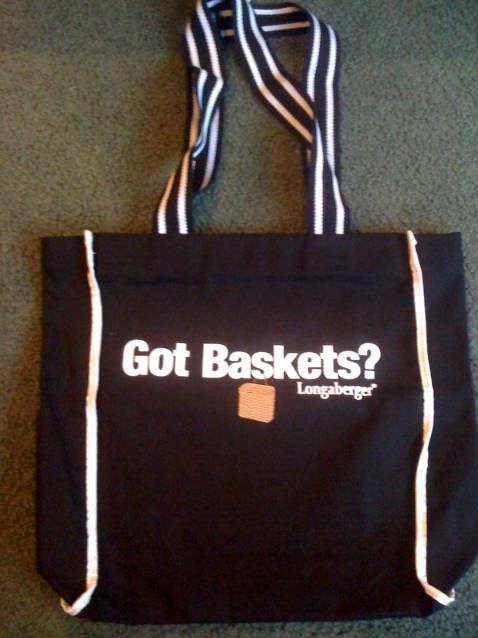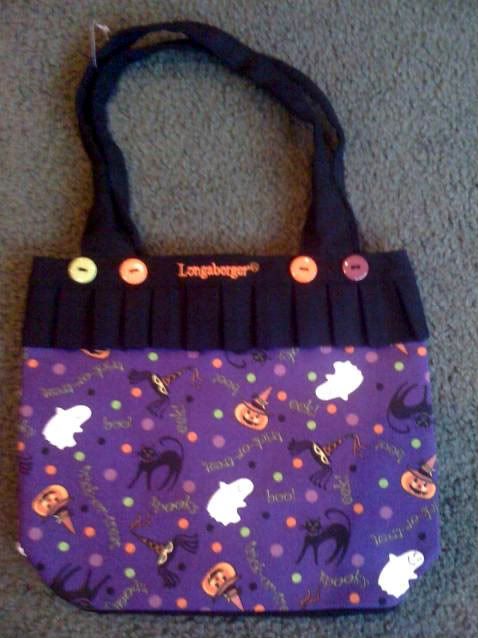 Yes, that's a Halloween print.
Crazy, remember?
Good Luck!
(In the interest of full disclosure, I am not being compensated in any way by Longaberger. I am a basket fan, and wanted to share my love for the product.)