I am not Martha Stewart.
Nor am I a pristine model of pearly goodness like that blasted June Cleaver. Seriously, who runs a house like that? Are you telling me that June-Bug cleaned the toilet in those heels? Or magic erased the kitchen floor in that pressed prim and proper dress?
I think not.
I'll save that rant for another post, though.
Let's just say that I do magic erase the kitchen floor and I do clean the toilets, but it ain't pretty my friends. I get all bent out of shape out of breath just from the mere thought of cleaning the floor. You throw in some pantyhose and heels, and you'll be lucky if I make it across the floor without twisting an ankle.
June, you don't fool us.
We know your made for television lifestyle was a hoax.
And a big, fat hoax, at that.
What I was saying before I got off on that tangent is that I am not a big fan of cooking. I mean, I don't so much mind cooking if everything is in order, but if your kitchen is anything like mine, it is safe to say that things are rarely in order. And by 'in order' I mean, if the menu has been made out, the groceries have been purchased, the meat is thawed, it's not after 5pm, the sink is empty, the DVR has been emptied, the dishwasher has been emptied, and there have been no invitations issued for dinner in a restaurant.
So, yeah, pretty much, I'll cook if its a last resort.
Oh, I kid.
Sort of.
I don't mind cooking if its something I'm familiar with and I don't mind cooking especially if what I'm cooking appeals to me on that particular day. I guess it's pretty safe to say that I cook because its necessary and only if all other requirements are satisfied. For that reason, it was a bit of a surprise when McDaddy and Stevie were awarded second place in the Father/Son Cub Scout Bake-off for their sugary concoction – Beach Cake.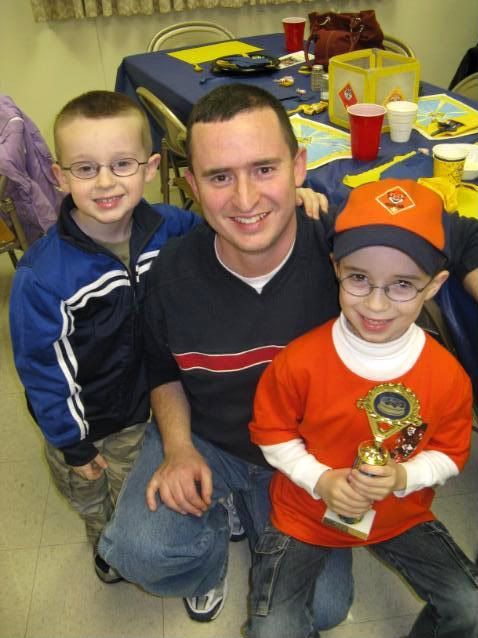 (I'm sure it didn't hurt at all that the cake was beautifully displayed in a piece of my beloved Longaberger Pottery either!)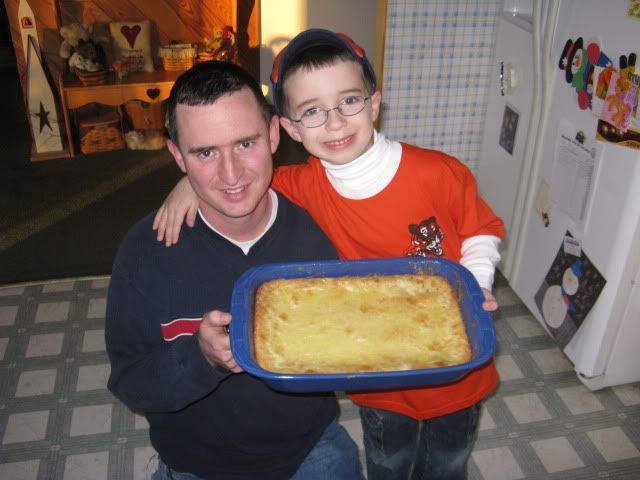 I am a bit embarrassed to admit that I, myself have never been awarded a trophy for my cooking. Heck, I'm happy to get a "dinner is good, babe" from McDaddy when I present my latest culinary delight.
I made mention of the 2nd place trophy a few weeks back here at FITP, Inc. and since that time several of you have inquired about the recipe. And by several, I think we all know that I mean two or three of you.
So, since I am all about pleasing the audience, I thought this would be a good day to share the recipe. After all, the county fairs and bake-offs will be starting up real soon and at least one of you might be looking for a winning recipe.
While I'm not real sure why it is called a Beach Cake because there is no sand or sun involved, the Beach Cake was an overwhelming favorite among those sampling the offerings.
BEACH CAKE
Cake Ingredients
1 box yellow cake mix
1 egg
1 stick of margarine
2 cups of chopped walnuts or pecans (we prefer pecans)
Icing Ingredients
8 ounce block of cream cheese
2 eggs
1 box confectioners sugar
CAKE:
1. Grease 9×13 pan lightly
2. Melt margarine
3. Mix cake mix, egg, margarine, and pecans in medium size bowl.
(Mix will be heavy and tough)
Press mixture into 9×13 pan.
ICING:
1. Mix icing ingredients together (praying over each of them because hello? clogged arteries?)
2. Pour icing mixture over cake.
3. Cook on 350 degrees for 35-40 minutes.
*NOTE: Cake will appear to be done at 30 minutes, however, you should follow the baking times for the best result. (Don't you love the way I said that with authority and all?)
Enjoy warm or cool, it's up to you!
The Beach Cake worked for my fellas! Visit We Are THAT Family for other things that might work for you!