Stevie has been asking me for weeks when he could "Take more pictures for Thursday Thirteen on your blog" and for weeks I've been putting him off.
You know, because of child labor laws and all.
But lo, last Tuesday was a snow day and after his limited amount of time on various electronic devices, he was bored out of his mind and posed the question again. The snow day provided the perfect opportunity to take 13 pictures of random things in our home that he wanted to tell you about.
Each caption is a direct quote.
Are there Child Labor Blog Laws?
Anyone?
Okay, I didn't think so.
Off we go.
1. I like my DS because I got two new games for Christmas and I like the new Transformer case because it can hold two games at a time.
2. I love my mom because she is sweet. She lets me do Thursday Thirteen stuff. She lets me take the pictures and tell her about the pictures.
[In my defense, it was a snow day. I haven't the first bit of make-up on and I was caught off guard and didn't have the wherewithall to hold my head up to hide that second and third chin.]
3. This is mom's nightstand. I like the lamp because you touch it to make it come on. If you touch it after it goes the brightest, it goes off. I like the clock because at night, it shows the time up on the ceiling.
[I should take this opportunity to say that I also had a box of kleenex on the nightstand prior to the shooting extravaganza. For some wild reason, my nose has ran for two weeks without a break.]
4. I like the snow. I was hoping I could go outside someday and clear our block off with my gator, but we have not got a chance to. I like the snow because it looks nice with its white, shiny color. The step on Dad's truck is icy and the truck looks pretty snowy as shown.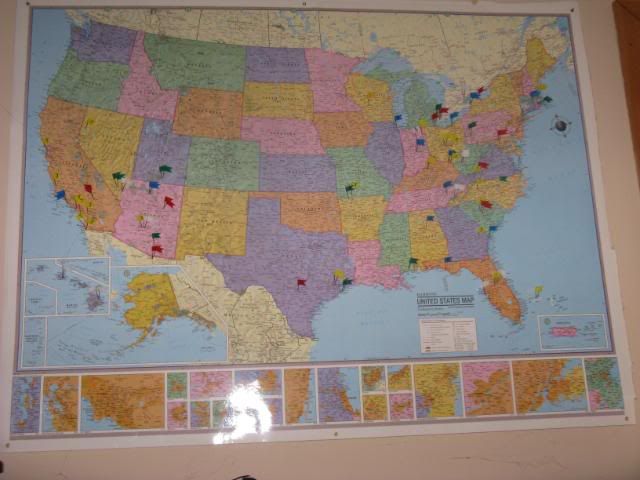 5. This is a map downstairs in the basement. It has flags on each state that mom and dad, me and Alex have been to. Some of them are from when we weren't born yet. And mommy said she was behind on a couple of them because we are out of flag pins.
[Seeing this picture reminds me how far behind I am on mapping our adventures. Must. get. flag. pins.]
6. Daddy has two computers beside of his computer because he is working on Cindy G's computer. Dad has been working down here a lot now. He used to be working away from the house a lot instead of downstairs, but now he is starting to work downstairs more.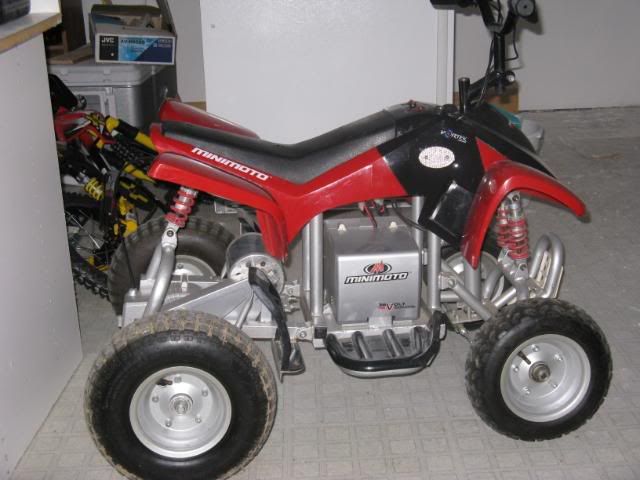 7. I like my 4-wheeler but one thing I do not like about it is that it is one-wheel drive and if you get that one wheel off of the ground in the field and your back is facing the hill, then you are gone unless someone helps you. It has two gears, training and normal. The training is for small places and for people who are just learning how to drive it. The normal is someone who knows how to drive it already and its for wide-open places.
[I did not get to vote on the giving of this thing. McDaddy's siblings went together and purchased it for Stevie's birthday this year. Hearing my sweet seven year old say the whole line about the one wheel being off of the ground and then you are gone unless someone helps you, makes me aware that I need to  have a very long talk with McDaddy regarding this thing.]
8. This clock may have Chick on it, but it has two cars on it because it is a 3-D clock and it turns from Chick to McQueen. It has a different sentence on the top of each car. I cannot remember the sentence above McQueen. The sentence above Chick is The Challenge is on!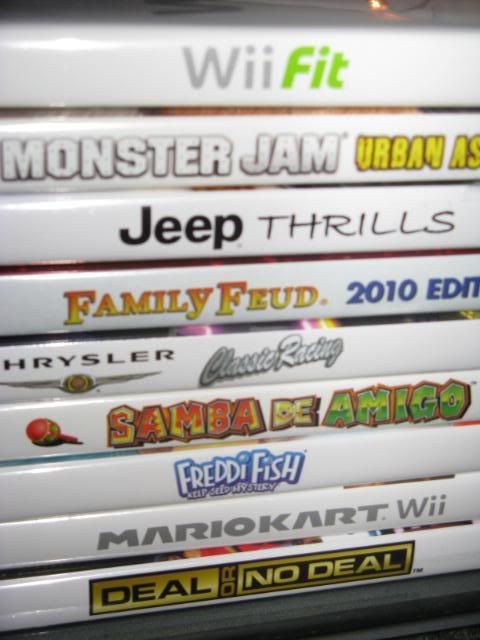 9. These are our Wii games. I have lots of fun on them, but my favoritist out of all of them is Monster Jam because I have won almost every single one and you can even move a bus out of its spot with your truck in freestyle. I have unlocked one of my most favoritist trucks ever which is El Toro Loco.
10. This is Alex and Dad. I love both of them and they are playing on mom and dad's bed. The whole family has lots of fun together. Me and Alex like both mom and dad. Daddy works in the Air Force and he is gone of course today, and we miss him very much. One time he had a deployment for six months. We missed him but the very last day he was gone, when he came home, we showed our posters to him and we were glad that he came back. He has had to leave again but just for a few days each time.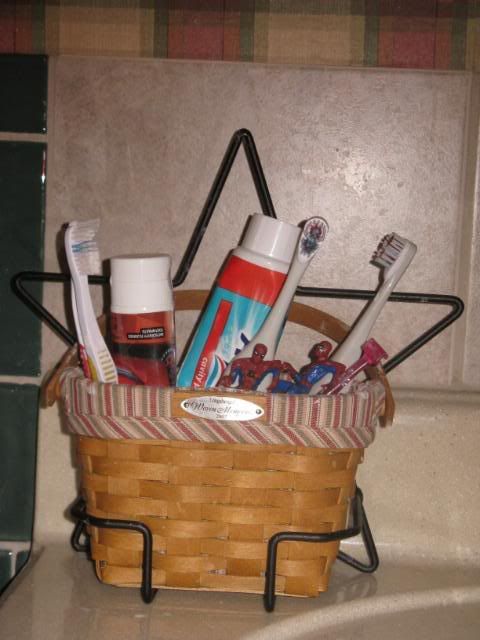 11. This is our toothbrush and toothpaste basket. Me and Alex have Spiderman toothbrushes that can brush our teeth for us. You just press a button and the toothbrush brushes your teeth for you. We can tell them apart because mom wrote an "S" and "A" on the bottom of them.
12. Me and Alex are a big fan of Jimmie Johnson. This is our cool car turned into a Jimmie Johnson car. I was the one that got this plan. We printed the "48" and the "LOWES" and the "Lowes Racing Team Sign" from the computer and then the first 48 I cut out, I accidentally cut the eight off, but we printed another one and I kept both of them together that time. I used tape to put them on the car. Alex was pushing the car once and pulled the Lowes Racing Team sign out of the tape and now it flies up when we go real fast with it.
13. This is the table behind the big couch. You think it might look beautiful with just that, but there are two things that didn't fit in the picture. It is a vase and a picture of  me in gray (black and white). The real big picture in the middle is a picture of the whole family's feet and it has a verse written in cursive at the bottom.
Now, wasn't that fun? Yes, I thought so too!