It is almost midnight.
We had an impromptu Christmas get-together after church. And by impromptu, I mean we had about twelve minutes between the time we walked through the door until our first set of friends showed up. Which meant that objects were thrown willy nilly into our bedroom, baskets of laundry were shoved in our closet and the pile of debris from the kitchen counter-top was tossed onto our bed. I'm sure our friends were not coming over to see if our house was tidy which is good because clearly, we had no idea that we were having a get-together until I invited the first couple, and then another and another and then another. There were fourteen of us total. We feasted on chips and cheese, cookies from the cookie exchange and some sweet treats I made with a couple of gals for Christmas. As always, we enjoyed fellowshipping with our buddies.
Anyway, I said all of that to say that this will be short and sweet.
If that's possible.
I thought I'd share with you 13 ornaments from my tree. They are not necessarily my favorites because 98% of them are my favorites. There is pretty much a story behind most of them and if I studied my tree long enough, I could probably tell you which one was missing if you were to remove one.
Please keep in mind that my tree sits in (on ?) a rotating Christmas tree stand, so that might explain why a few of the pictures might not be crisp and clear. About half-way through my picture taking extravaganza, it dawned on me that turning the rotator off would be a good idea.
Anyway.
1. This first one is truly one of my favorites. I purchased it at a little gift shop at Snowshoe which is a ski resort. It was the same year the guy in the room next to ours died. 
2. Another favorite. Stevie made it during his first year in pre-school. It makes me smile.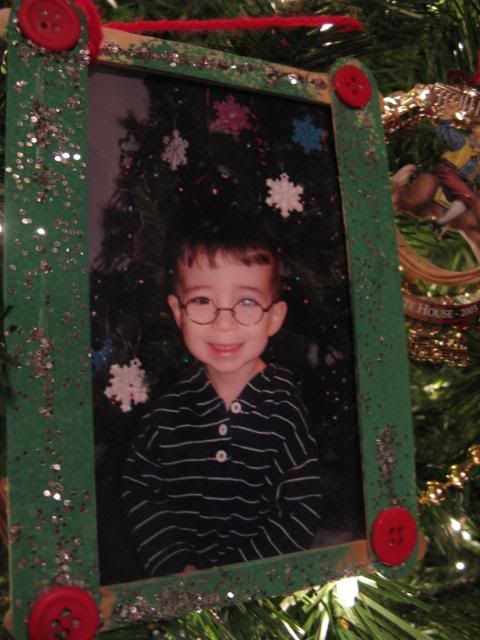 3. This next one is pretty obvious. I love it because it reminds me "our trip to Europe." (Spoken in my best English accent, or as English as you can get when you talk like a hick!) You know because I come from royalty and all. (Which explains why there are crowns all over my blog!)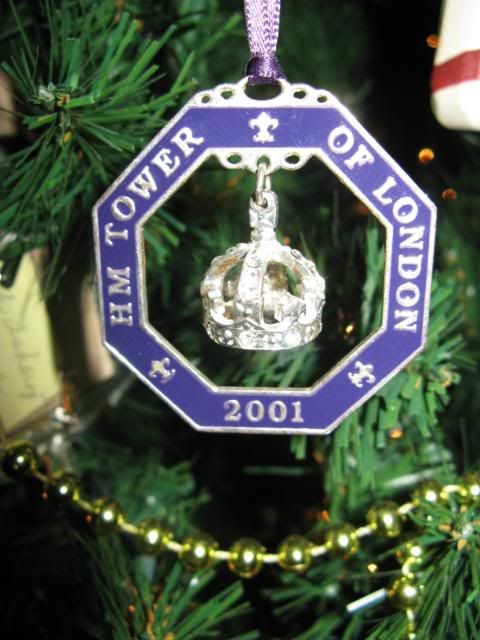 4. This next one was a gift from my friend, Billy Gene (whom I really need to write about someday because OH MY WORD, the story is so sweet, I need to share it someday very soon but for now I'll just show a picture of the ornament because afterall it is almost midnight!) who sent it the first Christmas after I married McDaddy. (I could go all crazy and photoshopphotobucket edit McDaddy's name onto it, but that would take time and energy. Neither of which I have right now!) Oh, and did I mention that I love snow snowmen?
5. This next one is just plain funny. It proves my quirkiness. And yes, quirkiness is a real word. Just ask me. No matter where I am, if there is a place to shop, I will find it! [On a perfectly unrelated note, I displayed this ornament last year on my blog. That post recieves many hits each month because apparently there are lots of folks googling the words prison and ornament. Who knew?]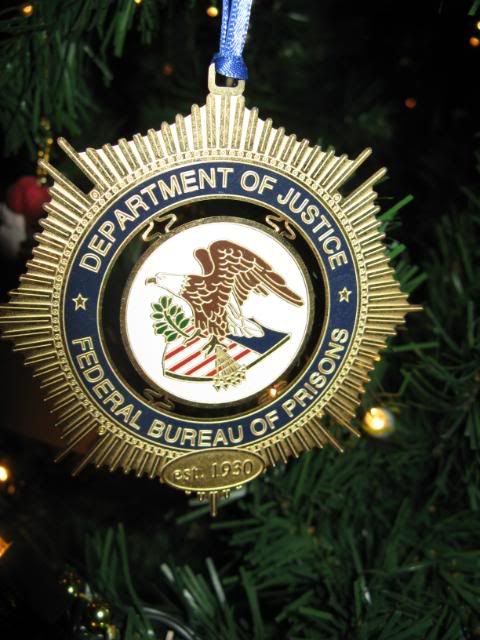 6. Every year, I send about a gazillion Christmas cards complete with a letter and a picture. Each year, I buy a cute family frame and place that year's Christmas picture inside of it. Sadly, I didn't think to do this until after McDaddy and I had Stevie. The family pictures are among my favorites. This is the 2007 Official picture of the First McFamily.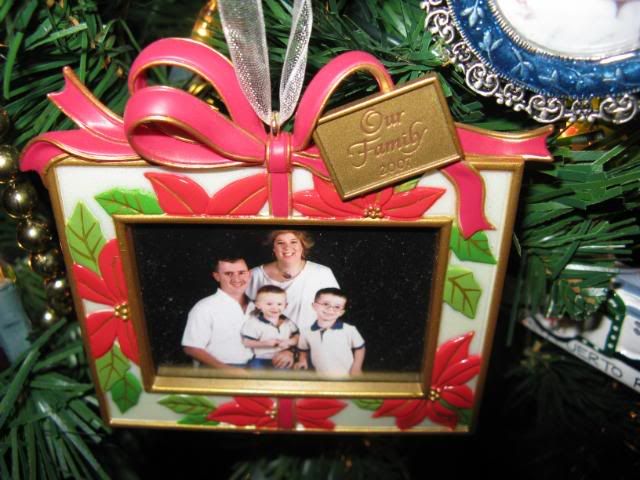 7. Before we were married, a girlfriend hosted a Christmas shower for us. We got married in May, however, I thought this was such a sweet idea. I've never attended another Christmas themed bridal shower but I would love to. I treasure each gift we recieved (many were ornaments) and could pretty much tell you who each one came from. This Barbie ornament was given to me at the shower by my mama. She is usually attached to an ornament spinner, but for some reason, I have no idea where my spinners are.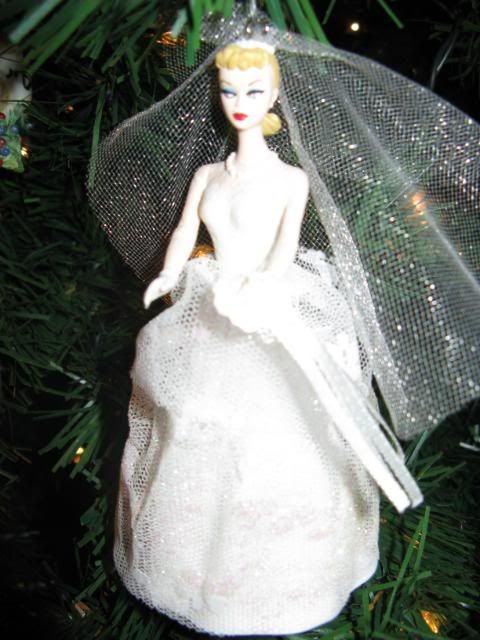 8. My absolute favorite ornaments are those made by my boys in their various classes. This one was made in Sunday School at our lovely little church. He would have been 2 years old. That is my nephew Evan peeking around the corner in the silver stocking.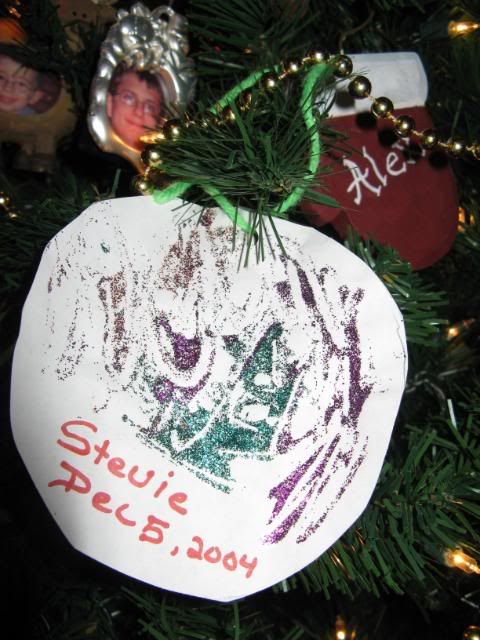 9. Another favorite. Another family Christmas card picture. I believe this one was 2004 although there is a pretty good chance that I am wrong.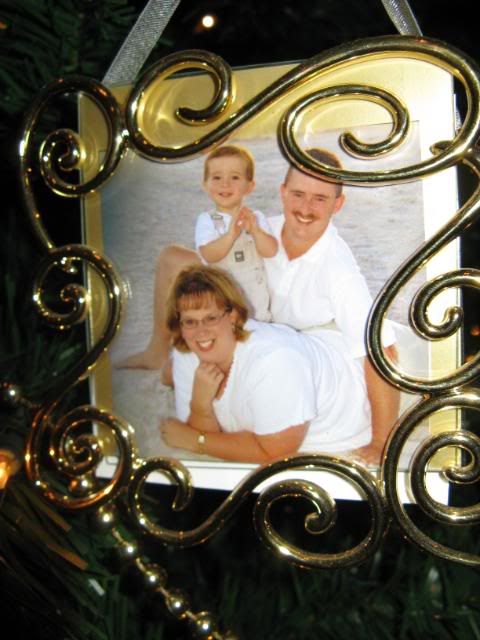 10. Another favorite. [Begin rant] If you happen to work for one of those ornament kiosks in the mall (which by the way I would love, because I love decorating ornaments) it is a good idea that you have nice hand-writing. I purchased this from one of those kiosks and when the gal wrote the info on the ornament, it was barely legible. In my sweetest voice, I kindly explained that I wasn't happy with the writing and she gave me a new ornament. I brought the sucker home, dug out my fine-tip Sharpie and went to town. The ornament will be even more special to Alex someday because it is in my handwriting. [End rant]
11. Each year, McDaddy's parents buy an official white house ornament for us. Last year, we had the privilege of visiting the White House at Christmastime. I purchased this from the white house gift shop.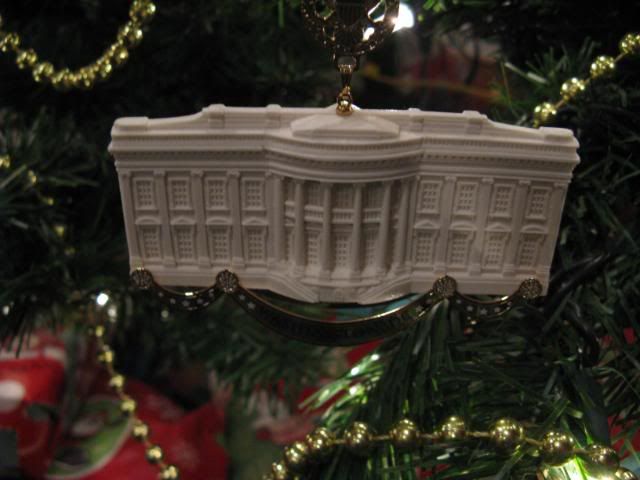 12. This next ornaments is one of the newest on our tree. I picked this up at an arts and crafts show. It is made from a lightbulb and I think it is adorable. Capital High is the name of mine and McDaddy's high school – GO COUGARS!
13. And last, but definitely not least, this one is another favorite. McDaddy and I moved four times the first four years we were married until we purchased our house in 2002. We have four "door" ornaments on our tree, one for every address we've had since we were married. [Just in the case you are wondering, I have edited the address from the ornament to protect the safety of the people currently living at our old address. You know, just in case you are a shady character who is stalking my blog looking for a strange house address to rob. It's a strange world we live in people!]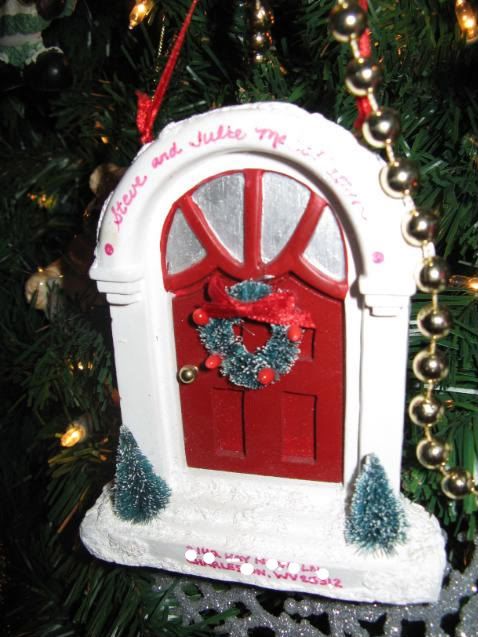 Merry Christmas Eve, folks. That's all she wrote.
Literally.