I thought about saving this post for Wednesday.
But it dawned on me that maybe, just maybe a few of you might be wanting to know the outcome of my cookie exchange and whether or not my cookie earned me the cookie crown at the 2009 Cookie Exchange hosted by my BFF, Becky.
First, meet my cookie, which by the way is a really good cookie.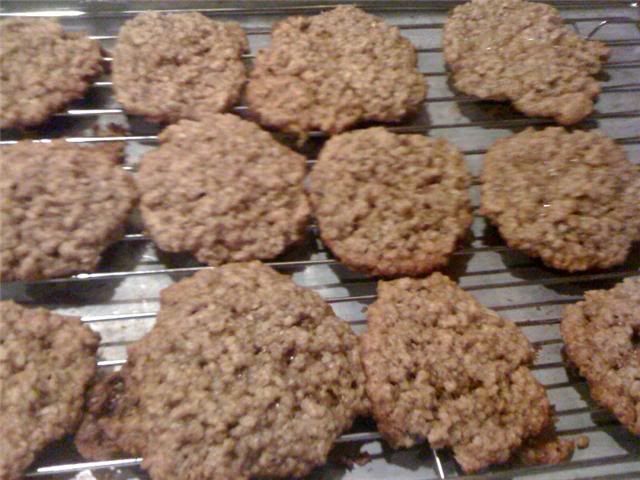 And here are it's ingredients, minus the egg and the butter because apparently I forgot to add them to the picture.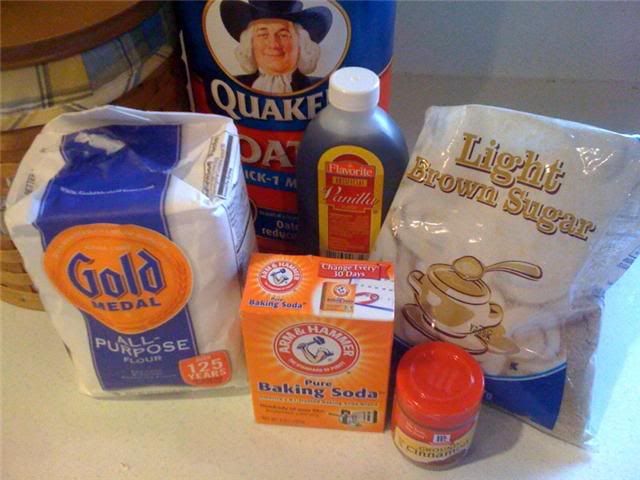 OATMEAL CINNAMON COOKIES
3 cups rolled oats
1 cup brown sugar
1 cup all-purpose flour
1/3 cup white sugar
1 teaspoon baking soda
1 teaspoon ground cinnamon
1 1/4 cups of butter
1 egg
1 tsp. vanilla
Preheat the oven to 375 degrees and grease cookie sheets.
In a large bowl, beat 1 1/4 cups of butter with 1 egg and 1 teaspoon of vanilla until fluffy. Stir in the remaining contents.
Drop cookies by rounded tablespoons 2 inches apart onto the prepared cookie sheets. Bake for 8 to 10 minutes in the preheated oven. Cool on cookie sheets for 1 minute before removing to wire racks to cool completely.
And now for the things I learned…
1. As you may recall, the first lesson I learned was to insure I have ALL ingredients on hand before beginning the baking process.
2. If the recipe calls for a wire rack, you should by all means understand that the wire rack is indeed an important step. Otherwise, you will be scraping the cookie and its crumbs off of the cookie sheet. At that minute, you will kick yourself for not following the stupid directions.
3. There is a big difference between Quick oats and Old Fashioned Oats. Not that I have any idea what the difference is, I just heard from my daddy that there is a difference. After my great baking saga of 2009, I also discovered there is a difference in the instant packets of oats, too!
4. You can make three different batches of cookies and they will all look completely differernt.
5. This is a really good cookie. Unfortunately for me, the first batch, the stupid test batch was the best batch.
6. It is never a good idea to make a new cookie recipe while trying a new recipe for dinner.
7. When ten women are vying for a cookie crown, anything [and by anything I mean, bribery, high-pressure tactics, and threats] goes.
8. Presentation of your cookies in a Longaberger basket will not have any effect on voting. But it should because do you see that Longaberger basket on the table? That happens to be the first Longaberger basket I ever bought.
9. Your seven-year old will be confused when you tell him there was not a 2nd and 3rd place finish.
10. You will feel half-sick after sampling all of the yumminess.
See. Lots of awesomeness.
And don't you love this cute little presentation?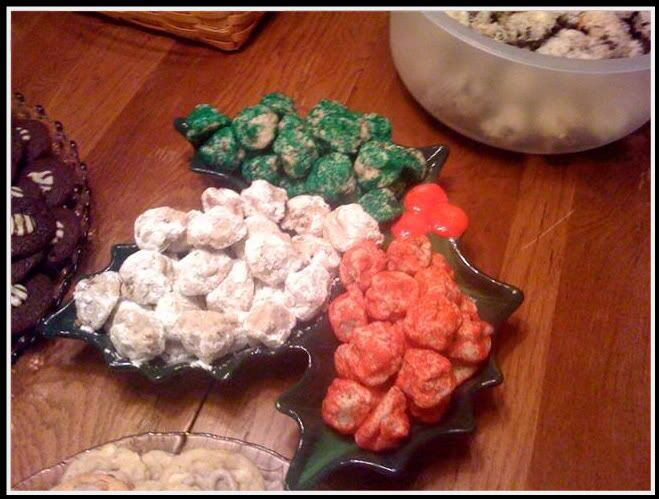 And now for the winner.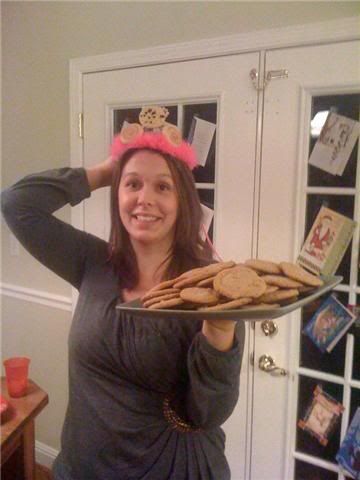 Meet Megan (sister of my BFF, Becky) who brought some sort of double delight peanut butter 2009 Pillsbury bake-off winner as her entry.
Shouldn't that be against some sort of cookie exchange law?
Yes, I think so.
But next year I am totally Googling the Pillsbury bake-off winner before submitting my cookie recipe.
And working on my high-pressure tactics.
Be sure to visit Musings Of A Housewife for more Things People Learned this week!