Welcome to From Inmates To Playdates.
Come on in, I've been expecting you.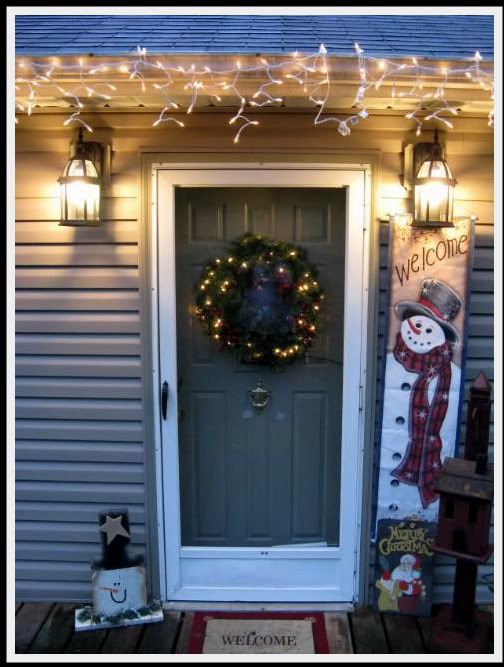 I know y'all have a lot of visiting to do, so I'll do my best to keep the ramblingcommentary to a minimum. I'll also go ahead and apologize in advance for the mess here at the McResidence. Over the weekend, we celebrated two birthdays and now we're battling a stomach bug, so as you can imagine, things are a little hectic around here. Before we get started though, can I interest you in a snack?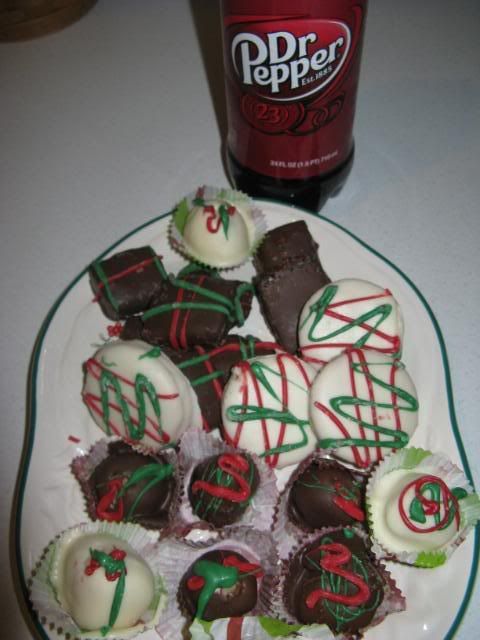 We don't do coffee around here, but we've got an endless supply of  Dr. Pepper.
And snowmen, as you will soon see.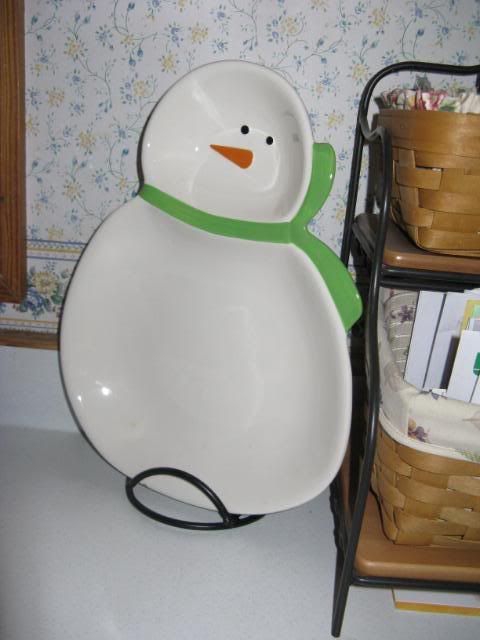 As you walked through our entry way, you might have noticed our stockings. We don't have a fire-place, so we hang our stockings on the banister. So far, the snowman stocking (on the left) has been knocked off about 237 times which explains why the name "Daddy" is barely visible now.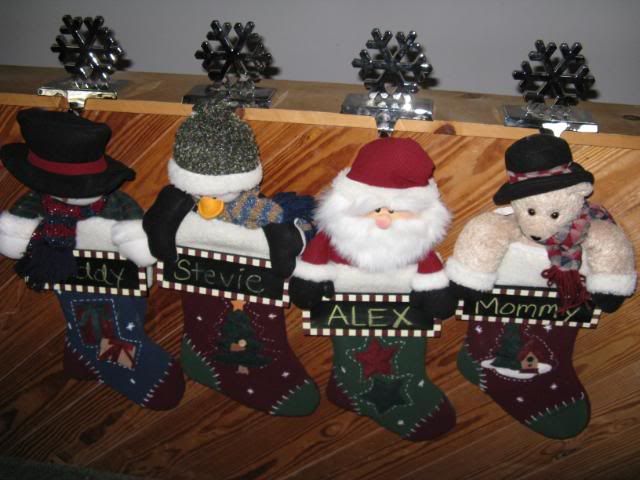 That guy up there happens to by my hubby, McDaddy (with our son, Alex) who is getting a late start on his part of the Christmas decorations in our loft this year. I've got lofty ambitions and high hopes that he'll be done before we're done here.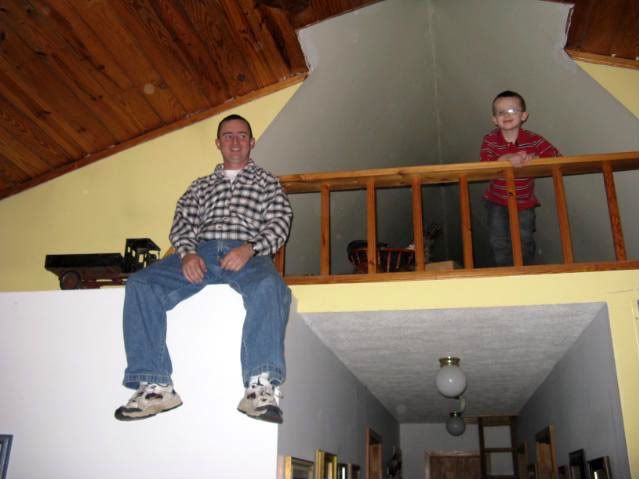 Decorating the loft is not easy as you can imagine…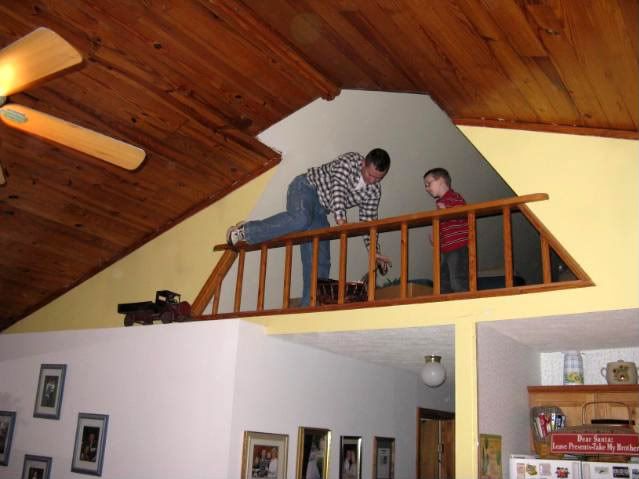 And speaking of the loft, if you were to climb the ladder with McDaddy, this is the view you would see.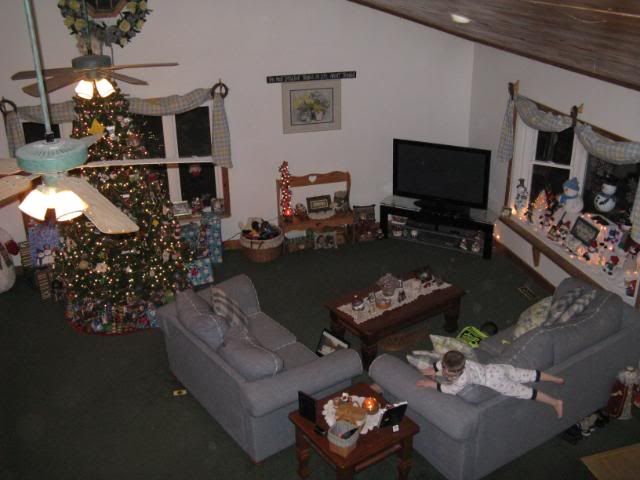 I have been known to suffer a panic attack while trying to make the decent from the ladder, so I go up there only when necessary for things like taking a picture for the blog. (Pay no attention to Superman on the back of the couch – Crazy kids!)
Unfortunately you can't get the full effect of my rotating Christmas tree. Some nights I sit on the couch in a trance watching the thing go around and around and around. I truly am like a kid at Christmas time.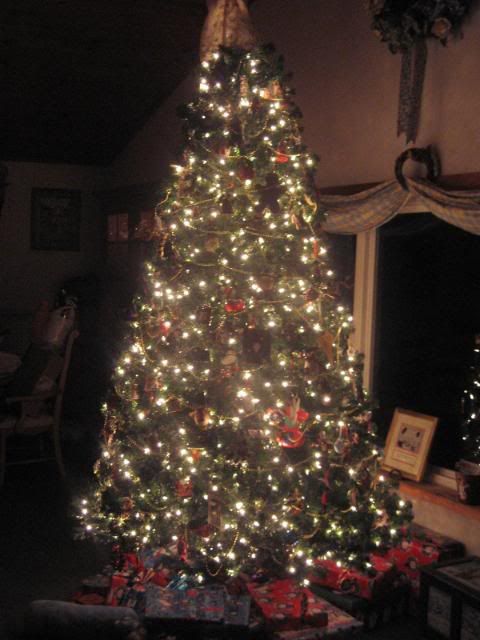 Our tree is filled with lots meaningful ornaments. We always try to get an ornament when we're on vacation and I have pictures of the kids sitting on Santa's lap each year, as well as an odd assortment of snowmen.
This is one of our newest ornaments. I picked it up during  our time on Guantanamo Bay when we visited McDaddy during his 6-month deployment.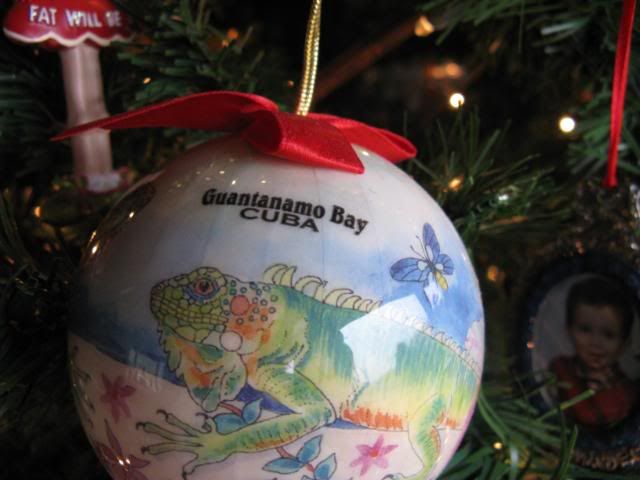 Another ornament on our tree reminds me of a happier time. The time when McDaddy surprised me with a 10-year anniversary trip to a surprise destination.
And if you stopped by during the day, our tree would look like this.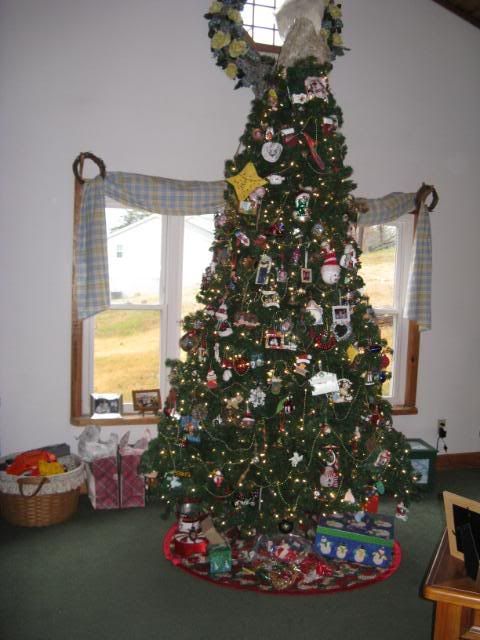 If you could stay for dinner, we'd eat here amongst the snowmen at the dining room table with my two sweet boys, Stevie and Alex (which explains why you see Monster Trucks and CARS cars everywhere!)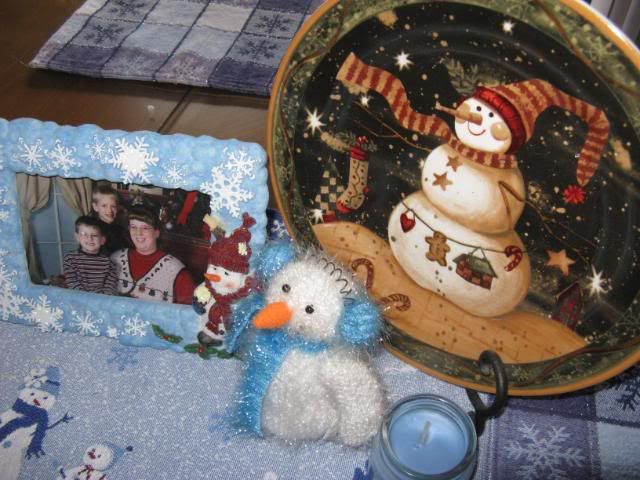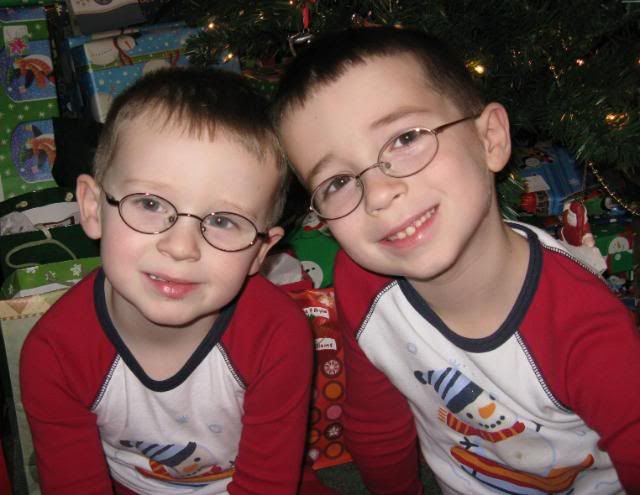 Oh, I almost forgot to show you my bathroom.
This is my newest snowman purchase and I think he sits on this perch nicely. It brings a smile to my face everytime I "have to go" in the bathroom.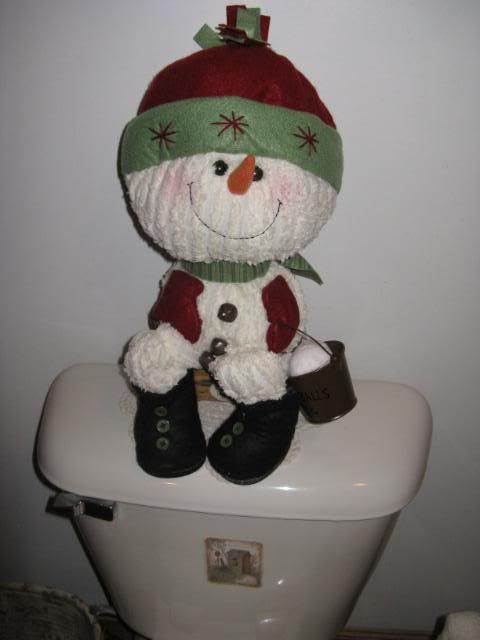 Or, how about this little booger, who has perhaps the most important job in the bathroom?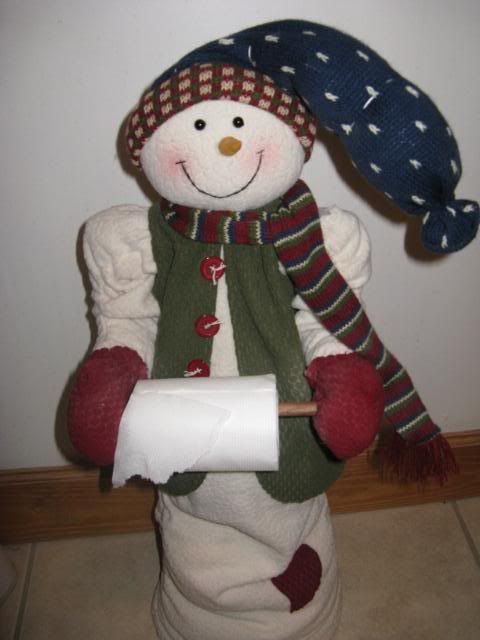 Over on the sink, you'll find more snowman friends,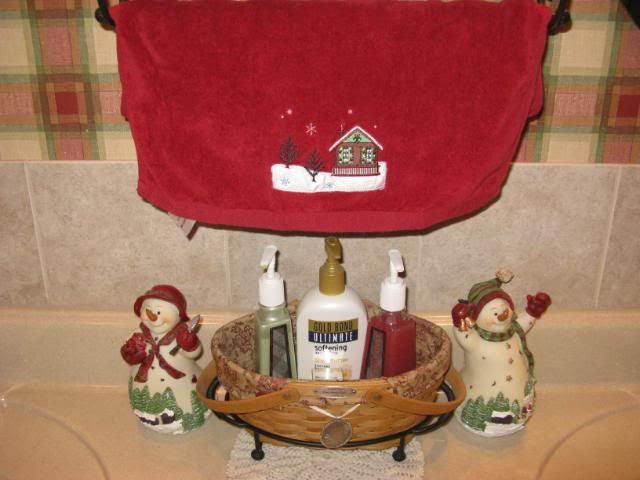 keeping watch over the coordinating (Oh, OCD, I do love you so!) Bath and Body Works soaps.
And, at night, Santa's tree provides light in the bathroom so you can see what you're squirting.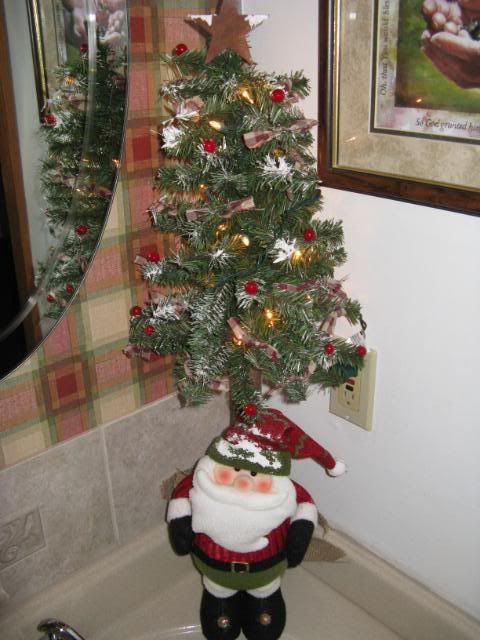 Most of the snowman friends hang out in my bay window,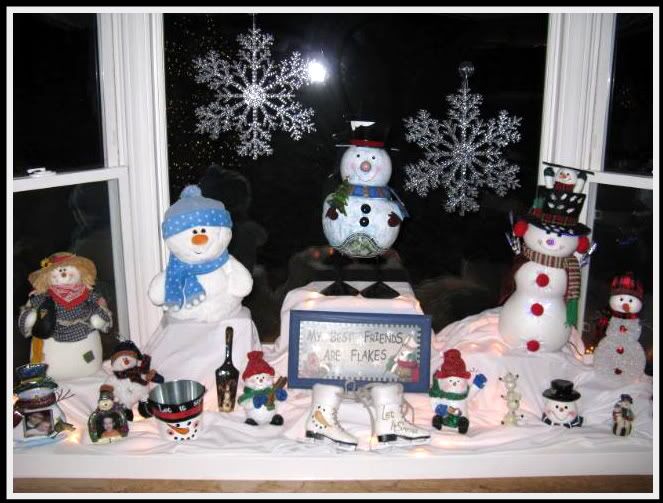 Let's take a peek at the loft to see how McDaddy's coming along with the decorations…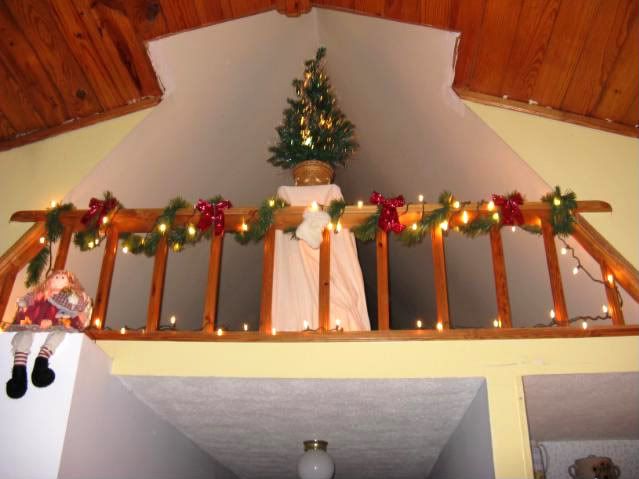 This is Fred. He sits beside of our Christmas tree.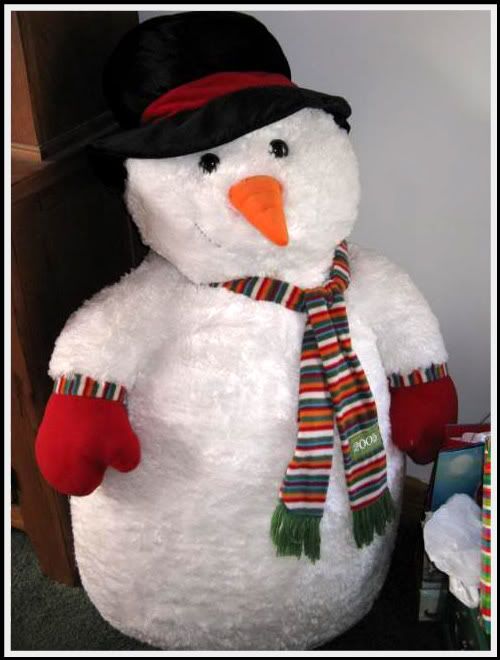 And, no tour of our home would be complete without this….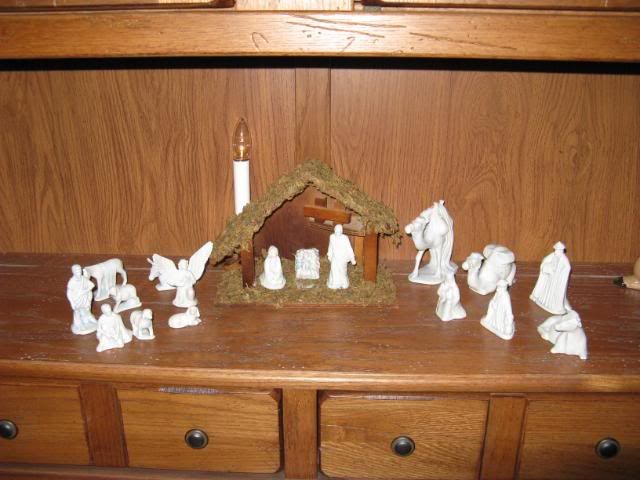 Jesus, truly is the reason for the season!
Merry Christmas from our home to yours!
Love, The McFamily from Charleston, West Virginia.
Before you go, be sure to grab a snack for the road.
Oh, never mind. Looks like I've had more visitors than I expected!
Thanks for stopping by From Inmates to Playdates! And, a really big thanks to The Nester for hosting this year's Christmas Tour Of Homes!
——
Along with some other bloggy holiday tours
And don't forget Tip Junkie.