Happy Monday, y'all!
We're packed to capacity here at the McResidence as McDaddy's brother-in-law, and three of his family members are staying with us this week for huntin' season. (And yes, around here we say huntin'!) If you've spent any time at From Inmates To Playdates, you know that we are in the midst of remodeling our basement. That means that half of our basement is in disarray (I love that word!) and the other half is in semi-disarray. The good news is that our house-guests are four men, and they are here to hunt. They couldn't care less what the accommodations as long as they have a warm bed and a toilet. So, my OCD levels are not as frigged up as they would be if those four fellas were girlfriends. Still yet, I have been swarping this week to get the basement in some sort of order.
We also had Thanksgiving and Christmas with McDaddy's family this weekend. However, we did not party like rock-stars or eat like pigs. We did, however, enjoy being all together as we watched our twelve children play together. In fact, my favorite mother-in-law is here, along with McDaddy's sister and her three kids and Tom & Jerry is blaring in the background as we wait for their arrival after a long, fourteen hour drive. Life is good!
And praise God it seriously wasn't me riding the fourteen hours to get here!
It was not me who whined and begged [unsuccessfully!] for McDaddy to get the Christmas decorations out of the loft on Thanksgiving day because I do not whine.
Or beg for that matter.
It also wasn't me who argued with the folks at Walgreens because they had M&Ms on a sale display table that they weren't willing to give me the sale price for.
If you are a big-wig at The Walgreens and you happen to be reading From Inmates To Playdates today,  please understand that all M&Ms on an M&M display with a 2 for $3.00  price-tag should be included in the sale regardless of whether they are holiday M&Ms or regular M&Ms. 
Just sayin'
Also, it wasn't me who scoured Toys-R-Us on black Friday for an hour looking for a second set of Incredible Hulk smash hands. It wasn't me because surely I  the crazy OCD non-violence mama would never buy one set of these, much less two for my sweet boys who never hit or smack each other.
Dang!
Oh, and it wasn't me who ate her weight in some kind of scrumptious banana pudding concoction that my sister-in-law, Bridget prepared for our family dinner.  Sweet mercy, I need to get that recipe. Maybe I'll share it sometime.
And finally, it wasn't me who found herself a bit emotional this week when we sold our beloved 4-Runner. Because seriously? Who cares about a car, right?
Good bye, 4-Runner. WeI will miss you around here! I knew once McDaddy got the itch for a truck, it would be you that got the boot instead of the heap, ahem, I mean JEEP.
I hope you love your new home! Since you are living just a few short miles from us, maybe our paths will cross someday.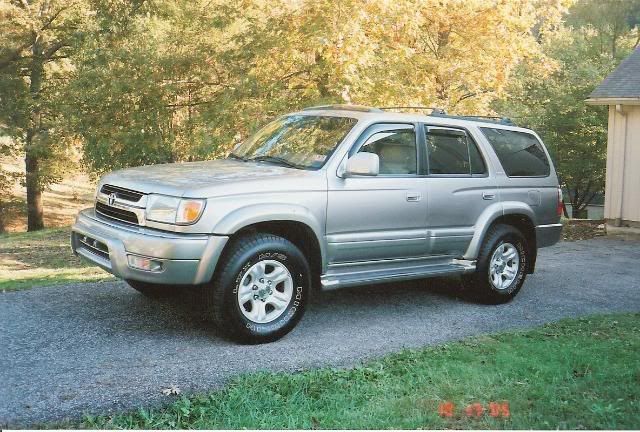 That's all I got for this week, folks!
Head on over to MckMama's place for hundreds of Not Me! Monday posts.