This week's 'Works For Me Wednesday' is a themed edition.
Participants are asked to share an Organization tip.
I am the most organized person I know.
Well, maybe with the exception being my sweet mother-in-law. She and I are two peas in a pod when it comes to organization and our desire for all things to be in freaky, neat, color coded, alphabetical, symmetrical, labeled order.
What can I say? I am one quirky gal!
That's not to say, I am always organzied. That simply means, I like to be organized. My world is a brighter place when everything is in its place and there's a place for everything.
With that in mind, you can imagine how my crazy meter exploded everytime I opened my kitchen cabinet to find this hot mess.
This hot mess makes me crazy!
Then, when I was aimlessly walking around SAMS last week pigging out on 427 samples, I ran onto these. 
I  immediately pictured a nice, tidy storage conatiner cabinet. I sighed and smiled and grabbed the box and threw the suckers in my buggy.
And lookie here….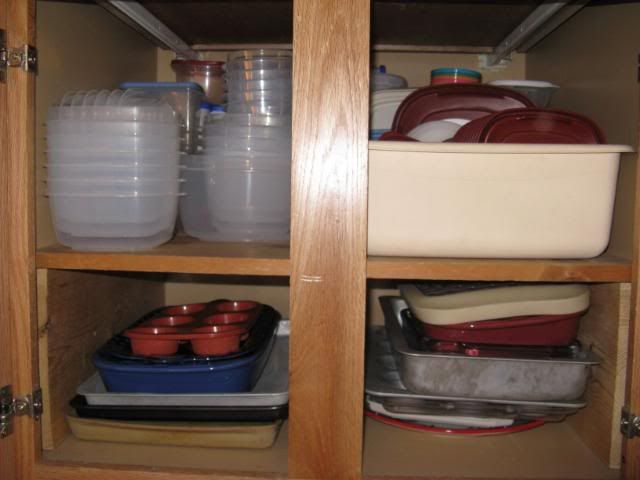 The bowls and the lids snap together and nest inside of one another. No more rummaging through that container looking for a lid that fits. And that makes me all kinds of  happy!
Rubbermaid Easy Find Set.
They work for me!
Check out other OCD Organizational tips over at We Are THAT Family.
Oh, and don't forget to go here to enter a give-away to win 200 custom post-cards from UPrinting.com.