Wow.
Obviously, when the idea of Thursday Thirteen – The Alphabet edition popped into my head 20 some odd weeks ago, I gave little thought to what might happen when it was time for me to come up with thirteen words that begin with the letter U.
Because seriously?
 Have you ever thought about "U" words?
I will do the best I can to make it to the end, but I make no promises.
Because just between U and me, I'm not sure I can pull this one out.
1. UMBILICAL CORD – Not a lot to say about the umbilical cord except that when our boys were born we collected and banked their cord blood. It was very simple to do and is hopefully something that we will never, ever need. Their blood is currently stored at a blood bank in Florida. We use CryoCell. If you are in the market for a cord-blood company, you should totally consider CryoCell and you should most definitely let them know that I sent you because we can save a year's worth of storage fees. Just sayin'.
2. UMBRELLA – I purchased a new umbrella while we were in Cuba. I can't recall ever purchasing another umbrella in my life. This umbrella had bright polka dots and I was in Cuba. I knew that every time I popped the thing up, I would remember our trip to see Guantanamo Bay to visit my sweet McDaddy during the L-O-N-G-E-S-T six months evah. I googlized an image for Totes & Umbrella & Polka Dot but did not find my particular umbrella. What I did find was this fabulous umbrella at haroldfeinsteinstore [dot] com. Have I mentioned that the Gerber daisy is my favorite flower and it is pink? This umbrella would make me happy, even on a rainy, dreary day.
3. UNCLE – My uncle Andy Wade in Rhode Island is a loyal blog reader (hi Wade!) and McDaddy's uncle Bill (which makes him my uncle-in-law) is also a loyal blog reader (Hi Bill!)
4. UNDERTAKER – Had to include this one just because of the post I wrote last week, What I Learned At The Funeral Home. I had a neat experience with my friend who is an undertaker. I have made him promise to suck out some ofmy muffin top if I ever happen across his embalming table when my time on earth is done. Oh, and could someone remind him to pleasenotwiremymouthshutmkaythankyouverymuch!
5. UNITED STATES – The best country in the whole, wide world. I can't imagine living anywhere other than the US of A.
6. UP – Disney Pixar's newest goldminemovie. Up is a really cute movie, however there are some really weird, non-kid scenes. I think this little guy Mr. Fredricksen and his friend, Russell are adorable.
7. UNION – Me and Him? A perfect union if you ask me. (Although I cannot speak for him! and usually don't give him a chance to speak for himself because I am rambling all the way to nowhere.) Oh sweet Moses. Look at that cutie patootie. I miss him so much!
8. ULCER – I am a worrier from way back. Its a miracle that I don't have a blue million of these.
9. UGLY – This thing puts the UG in Ugly. I would pee down my leg if one of the ugly things touched me. We saw lots and lots of them on Guantanamo Bay. Really God, why?
10. UNIFORM – This is McDaddy returning from the Dominican Republic last year. Uniform + McDaddy = HOT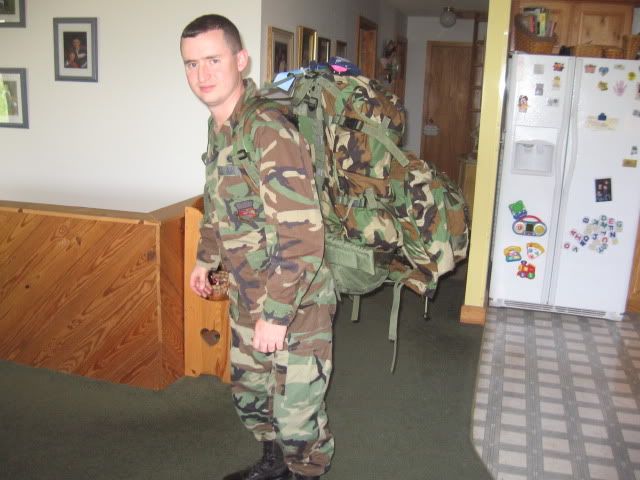 11. UTENSIL – It is laughable that I am using the word Utensil in my Thursday Thirteen because cooking is not my forte. I do make pancakes about twice a week though and I use one of these.
So, here's a question for you, my loyal blog fans. I call this one thing, and McDaddy calls it another. What do you call this thing? I have more than my fair share of Pampered Chef stuff because the girls I run with? They love to cook and they love to party. Cook + party = Pampered Chef. If I were any kind of cook at all, I would certainly be a pampered chef.
12. UNLIKELY – Um, It is unlikely that I will ever have one of these, however, you must understand that I will never stop dreaming and blogging about it. Perhaps you underestimate the power of the blog. After test driving the thing, I have an even bigger urge to go out and buy one right this very minute, because I would look fabulous in it have one. I keep hoping the fine folks at Saturn will drive up and unload one of the suckers at the McResdence. I keep thinking that talking about it umpteenhundred times here at the blog will eventually lead someone from Saturnville right here to Inmates and they'll be so moved by my unconditional and unquestionable love that they will finally just give me one. Instead, my pleas seem to go unheard. At the very least, they should pony up some coin for all of the free advertisting they get here. I am pretty sure that if they knew how cool I was, they would vote unamously to present me with one because it would be the ultimate gift for a princess who loves the heck out of this little car.
13. ULTRASOUND – Truly one of the most beautiful things I have ever seen. With both of my boys, I had two non-stress tests each week due to pre-eclampsia, gestational diabetes and a host of other potential problems. Each and every time I was hooked up to that machine, I watched in amazement as my sweet babies floated in my womb. It was one of the best things about being pregnant.
And that as they say. Is that.
Enjoy your day, folks!