It is 11:35pm. The boys are asleep and I am stretched out in my big, blue, bloggy chair swiping tears.
I feel like a marathon runner who has just made the last turn.
The finish line is in sight.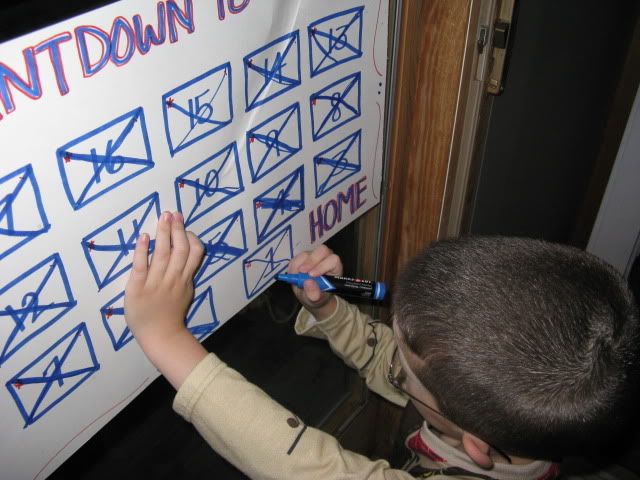 Some days, I have sprinted.
Some days, I have walked.
Some days, I felt like quitting.
It's been a long race.
Today, was a very good day. Today was a straight-up sprint.
Since rolling out of bed this morning, I have not stopped.
The floors have been swept and mopped. The bedroom has been dusted. The bathroom is sparkling. The hall closet has been cleaned out. Our walk-in closet is organized. The kitchen cabinets are straight. The little green bench in my room is clear (cue the violins). The laundry is done. The living room has been dusted. McDaddy's office has been partially remodeled. The van has been cleaned out (yessir, I'm serious about this!) The garage has been swept out. The tool benches have been wiped with windex (I know, I know!) The heap (ahem!) I mean JEEP is out of storage and thanks to my daddy and his friend, the front of our house has new vinyl siding.
I could go on and on.
I've been busier than a raccoon in a trash pile doing my best to pass the time.
As I put away laundry this evening, tears rolled down my face.
It is so hard for me to imagine that I made it through this thing.
If you had asked me back in January, I would have told you that I had no idea how in the heck I would make it to the end. Seriously. I! had! no! idea!
What I can tell you is that I did not go it alone! Not one day of it.
First and foremost I am thankful for God's sovereignty.
There were many nights that I knelt down beside my bed and cried out to God.
Dramatic? maybe. But so very true.
God is faithful.
And I am thankful.
Lots of prayers have went up on behalf of my family. I know that because countless friends, family members and blog readers have told me so. McDaddy and I appreciate you all so much.
Your kind words. Your prayers. Your thoughts. Your cards. Your calls. Your gifts. Your prayers.
We appreciate each and every one.
As we run the last 21 hours of our six-month deployment race, I want to say from the bottom of my heart that I we are thankful.
My heart is rejoicing and I feel like a high-school girl getting ready to go out with that guy that she's had her eye on for months.
Or like a nervous bride standing at the back door of the church preparing to walk down the aisle and pledge her love.
I am a wife who has missed her best friend. Her hero. Her husband.
I am in the home stretch and I will cross the finish line with a thankful, grateful, overflowing heart.
Today, we will finish the race.