It is Day six on Guantanamo Bay.
We are enjoying our time with McDaddy and are thankful for this time together as a family.
Several of you have asked what its like here at GITMO. Or at least two of you anyway, I really can't remember. Anyway, I'll get to that in a minute.
Yesterday, I decided it would be a good idea to organize all of my photos in my photo bucket account. For those of you who have been using photo bucket to post pictures to your blog for the last four months, you know what a dumb idea mistake that was. It took less than ten minutes to sort the pictures into files that I named Just Julie, McDaddy, GITMO, Saturn Sky, Both boys and Nonsense, but it took me the better part of eight hours to go to every. single. post. and. remove the old link and replace it with the new link.
Clearly not one of the smartest decisions I've ever made.
I THINK I'm done. I could be wrong. You can let me know if you click on a post to find a stupid white photobucket box.
Let me just give some advice to anyone out there who thinks it might be a good idea to sort photobucket pictures.
DON'T.
Resist the urge.
Start a new account.
Start folders for everything posted in the future. But whatever you do, leave those stinkin' pictures alone.
You're Welcome.
——–
Tuesday Night was the finale of Dancing With The Stars.
I missed it.
Immediately after live blogging American Idol, we headed out to watch McDaddy's squadron in a softball tourney here on base. It did not matter to me that I have faithfully watched each week as yet another contestant danced to the end of their DWTS journey. Nor did it matter that my girl, Shawn Johnson who was my clear favorite since week one was competing in the finals. Really, I was fine with it and I look forward to watching it on my DVR once I get home.
Hooray Shawn! You go girl!
——-
Oh, and American Idol? Sweet mercy, it was fabulous! I was thrilled to watch Kris Allen win. I rooted for Danny from day one but Kris quickly became a favorite of mine. I think he has mad talent on the piano and the guitar and on top of that his cute little face will be a marketing goldmine for Simon and his AI cohorts.
I hate to admit that due to the phone restrictions here in Cuba, I was not able to cast one single vote for the American Idol finals. I'm glad that Kris was able to pull it out in spite of my phone circumstances. I can't wait for Danny and Kris to release their records. Both of them have huge careers ahead of them.
——-
Aside from DWTS and American Idol excitement, there is no real news to report unless you count the fact that I am sitting in a little, blue, bloggy chair in Windward Loop on Guantanamo Bay with The Fairly Odd Parents playing on the television.
President Obama gave a speech just this morning about the Detainee Prison that is located mere miles from where I blogging from. McDaddy drove us through the prison camp on Tuesday evening and I'm sad to say there are ginormous "NO PHOTOGRAPHY" signs posted every three or four feet. If you've spent any amount of time around the hallowed halls of Inmates, you know I have a truckload of quirks and that I used to work in corrections.
If given the chance, I would have toured the joint, but sadly, the US Marines were a little too busy to give a quirky girl from WV a tour of the facility. Maybe next time.
———
We saw a scary, long boa constrictor stretched out across the road as if he owned the place last night. Since it is illegal to run over them, we sat and waited as it slivered off of the road and into the grass.
Shivers? anyone.
———
Some other really neat facts about GITMO.
Ariel pictures of the island are prohibited.
The US Naval Brig located here at GITMO may not be photographed. Not sure how true this is, but last night there was sign on the BRIG that read "NO VACANCY"
The snakes and iguanas are endangered and may not be harmed or ran over.
A new release movie is shown every night at an outside movie theater. The Star Spangled Banner is played before each movie.
I'll leave you with a few pictures from our time here. Especially since they are all organized in a nice, neat folder called GITMO in my photobucket account.
This is a picture of Glass beach. It is called glass beach because the "shells" look like glass.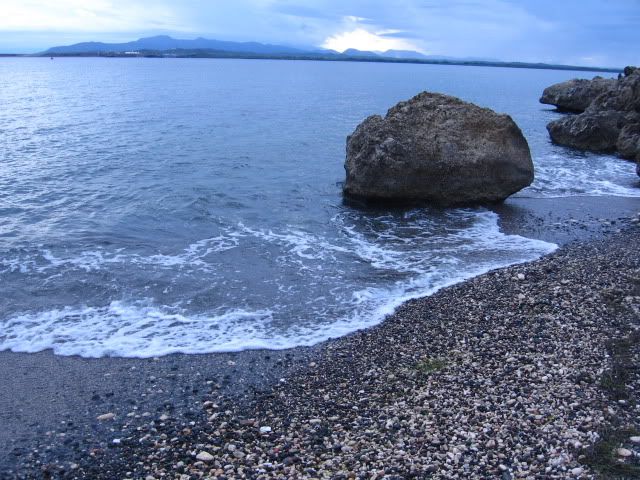 This is a picture of the bay. In the distance, you can see the run-way and the opening for the ferry.
The water here is beautiful. Just to the left of this picture is Camp Iguana.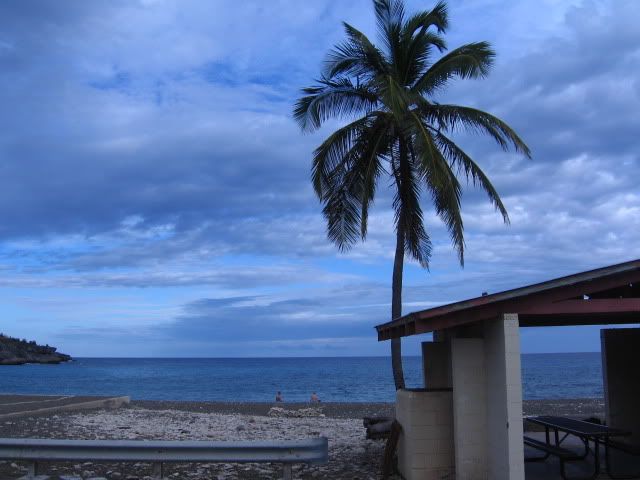 We head home tomorrow.