11 years ago today, these crazy kids in matching shirts from American Eagle …..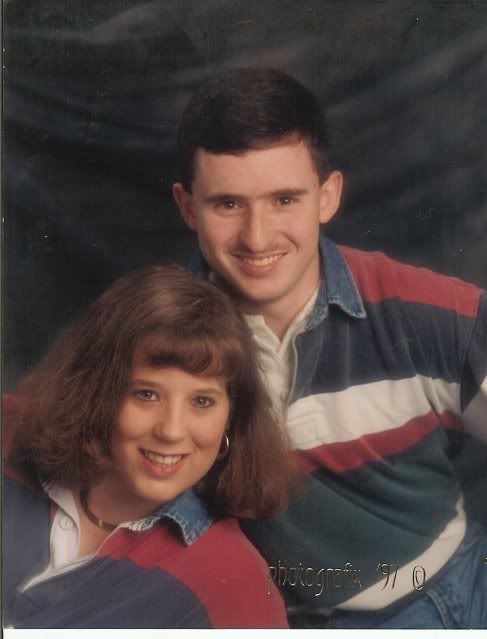 stood in front of a preacher, their parents, their siblings, and many friends and made a vow to love, obey and cherish one another until death did them part.
See that big white blob a little left of center?
That's me. There was tulle for days.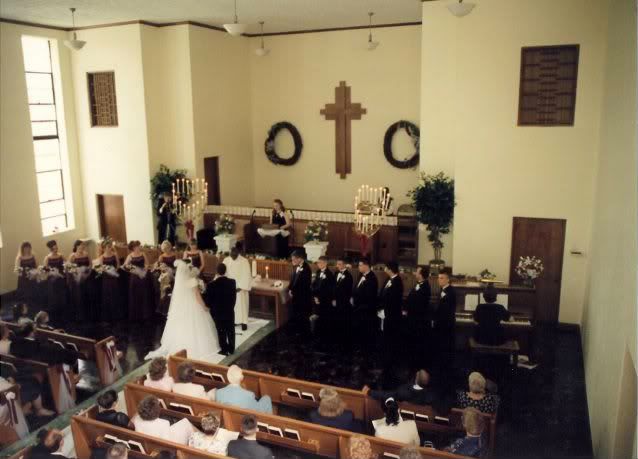 It was a wonderfully hot day and I have fond memories of May 23, 1998 – the day I said, "I Do!"
On that day…..
-There were about 150 people in attendance.
-Unfortunately, the air conditioning in the church was not in attendance.
– It rained early that morning.
– We took communion just after our vowels. (it was so hot, I wanted to ask for a refill)
– We had 7 attendants, 2 ushers, 2 ring-bearers and 2 flower girls (whew – not sure I'd do that again!)
– We had two great singers at our wedding. McDaddy's sister, sang, "Keeper of the Stars," and our friend, Jermaine sang, "Long As I Live." I think of our wedding day when I hear either of those songs.
– Our wedding colors were burgundy, silver and white.
– The bridesmaid dresses were beautiful and comfortable.
– My five- year-old nephew played an air guitar during the first solo.
– We had many out-of-state guests.
– I met one of my bridesmaids for the first time when she stepped off of the plane with her mom at the airport. (In 1988, we both paid one dollar and signed up for a cross country pen-pal. She lived in Winslow, Arizona. Teen magazine paired us up and we wrote faithfully to one another for ten years. I asked her to be in my wedding and we met for the first time when she and her mama stepped off of the plane in Charleston. We have been friends for 21 years and I am thankful for her friendship.)
– Our reception was at the National Guard Armory. (We drove to the reception and into the armory in a convertible mustang courtesy of McDaddy's Uncle Bill and Aunt Debbie – thanks guys, that was special).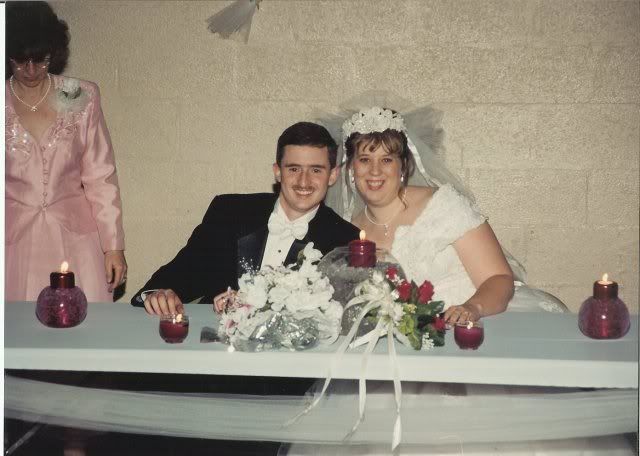 – We had a dollar dance. (Steve made more money than me).
– My dress was a bit difficult although you could not tell that on my wedding day.
– I was worried that the DJ would not show up to the reception. (He was a tad unpredictable, but he did a wonderful job).
– I cried during our vowels.
– We did not use normal vows. (Because we are not normal).
– My hair had 27 bobby-pins holding it in place.
– My wedding ring was (is) gorgeous and it brings me joy even to this day.
– We had a huge blow-up with a wedding supply store called Cantrell's Bridal before the big event. (I would not recommend them to wipe your dog's butt. No, actually, I'm not bitter, I'm just honest.)
– The receiving line was really long.
– We had good food, but, we didn't get much of it.
– Our cake was breathtaking. (I know that's a little dramatic -but it really was beautiful and tasty too.)
– We danced to "From This Moment" for our first dance.
– The onlookers blew bubbles instead of throwing rice or birdseed during our first dance.
– It was a beautiful day that I enjoyed planning.
– At the end of the day, we were pooped!
Today, those crazy kids have two crazy kids of their own and they couldn't be happier.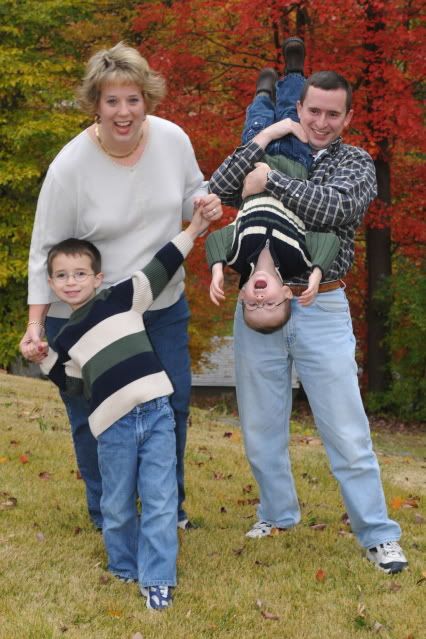 Happy Anniversary, McDaddy. I love you! I miss you and can't wait until you get to come home. I am thankful that we got to spend several hours together on our anniversary before we had to leave Guantanamo Bay. I am proud to be your wife and appreciate everything you do to provide for me and our sweet boys. There's no one else I'd rather be on this crazy ride with.