One day last week, I spent an entire afternoon looking through old photo albums and scanning pictures that I thought I might use someday on ye olde blog. It was during that whole pulling out-laughing-scanning-and putting back in the album- process that I just knew that I would eventually write a fashion post about some of the unfortunate fashion decisions I made back in the 90's.
I have always been known to push fashion to its limit. In other words, my wardrobe has always mirrored my personality.
Unique and loud!
Oh internets, please be easy on me…..
Let's start with this mess, get-up, fashion statement.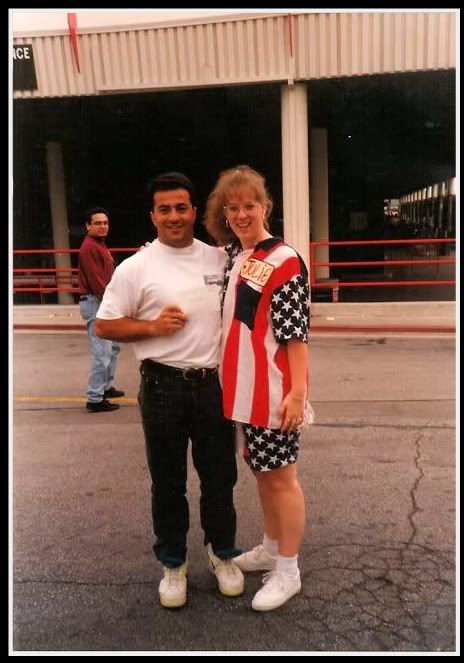 I KNOW! I KNOW!
What was I thinking?
While I have no idea what I was thinking, I can pretty much assure you that I wasn't thinking. Because not only did I wear THAT star spangled mess…. I happened to wear it on the top rated nationally televised game-show on the same day that I was in the audience of a game-show that you may or may not have heard of.
The Price Is Right.
While the price might have been right. The fashion statement I made that day was all wrong.
Why? *shaking my head in disbelief* Oh why did I do that?
Granted, it was 1994.
Obviously, I didn't have nearly the sense that I have today (ahem!), but for the life of me I cannot figure out how or why I could have ever believed that is was okay to make such a horrendous fashion statement on national television. NATIONAL TELEVISION. Clearly, not the best fashion decision I ever made. Thankfully, the producers did not call on me to "Come On Down!"
[As a side note: I am pictured with the showcase showdown winner, Masis who could have dressed a little nicer for the occasion in my humble opinion.]
For the better of part of fourteen years, I have tried to figure out why I wasn't chosen by the producers to go to contestants row.
Today, I figured it out.
AND IF THAT WASN'T ENOUGH, while visiting relatives in California the very next summer we decided to attend another taping of The Price Is Right.
I used a little more discretion this time.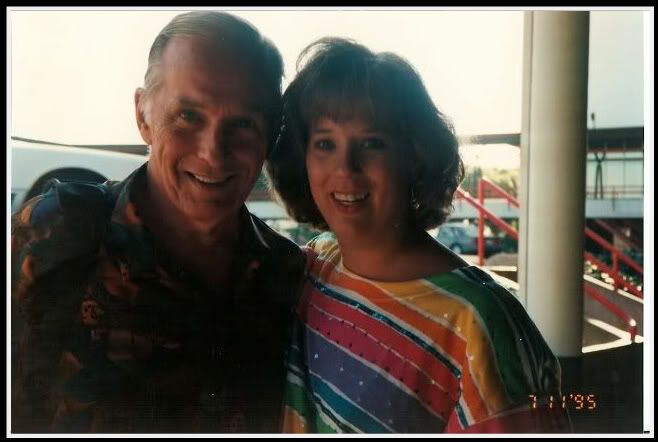 In this picture, I am posing with the wonderfully talented and humble Bill Bell.
For those of you not familiar with the number one soap in America for the past hundred years soap world, Bill Bell is the creator of The Young and The Restless. [And also The Bold and the Beautiful]
He has since passed away, but I do appreciate the many hours days weeks years of entertainment, drama and sorrow he has provided for me and millions of others.
May he rest in peace.
Right alongside that bedazzled mess I'm wearing.
Sheesh.
As badly as I wanted to be called to "Come On Down," I can't imagine the horror I would experience watching that tape sixteen years later, as my 22-year-old-self strutted across the stage in my best bedazzled shirt and hot pink shorts.
Oh yes.
I said hot. Pink. And shorts.
All in the same sentence.
Unique. And loud. Isn't that what I said?
You cannot understand how thankful I am that there is not a full length shot of me from that day anywhere on the planet.
Oh, except maybe in one of Bill Bell's fan albums.
I can only hope that The Bell's keep the album buried deep in the Hills of Hollywood.
As I recalled the fun I had attending two tapings of America's number one game-show, I considered what I would wear today if I ever decided to pay CBS Studios another visit. It would take me weeks to plan a fashion ensemble for such an event.
I would definitely go with something a little more low-key and slimming and flattering.
Perhaps this really basic tunic… (does anyone really use the word tunic?)
With a cute air of white capris.
——-
Or more likely this, paired with black capris.
I'd look fabulous on national TV in that, don't ya' think?
In actually love this shirt.
——
Or maybe something like this with a pair of white capris and a fabulous pair of black sandals.
—-
Let's hope my next television appearance finds me looking more fabulous than the last!!!
Head over to Jo-Lynnes's place for some sound, fashion advice.
Enjoy your weekend, ya'll!