If you were my favorite shoes… You'd look like this.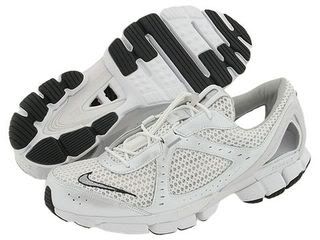 And….
You would have been happy to by pulled off of a finish line shelf at the Mall Of America to be adopted by me.
You would have taken just about every step with me as part of the great weight loss effort of 2008 (and now 2009).
You would love being used every single day (except in Winter).
You would smile everytime I sang your praises to someone who asked about you.
You'd get a kick out of the fact that the kids call you my 'workout shoes', even though I wear you even when I'm not working out.
You'd love not ever having floppy shoe strings because of your new-fangled strings that can't come untied.
You'd be sad to see the bad weather rolling in because you are just not equipped to handle snow and rain very well.
You'd be frowning at the new Nike Shox that I got for Christmas simply because you are not conducive to wintry weather even though your name is Nike Hot Shots.
*You'd love it when I showed off the housing unit in lefty that holds the chip that talks to my iPod about miles and calories that is sent to Nike.com.
You'd wish you were a different color than white because you get dirty so easily.
You'd be surprised that I have dedicated a whole blog post to you.
*By the way, here is the way the sensor and the receiver work. It is actually pretty amazing remarkable. The sensor transmits info such as calories burned, miles walked, total time, and best time to your iPod. You can then upload (or is it download) the info to nike.com.
This is the most comfortable shoe you will ever slip your foot into. I love these shoes because they are light and they are comfortable. They are a great weight-loss tool.
And that works for me!!!
Check out other tips that work for you over at We are THAT family.