I am so happy to report that all manner of Christmas decorations have been stowed away in our loft for another year and my big, blue, bloggy [BBB] chair is back in place at the McResidence. I am coming to you from the BBB Chair and tonight I thought I'd write a post about my funeral.
Yes, I said funeral.
Quirks?
Why yes, I do thank you very much. 
On top of that I am a control freak. (Yes, I am a joy to live with.) So, while I'm still living and breathing and controlling stuff, I thought I'd take this time to outline my wishes for my funeral.
It will be one final attempt to have full control over a life. Even if I no longer have it. 
That, and because one can never be too prepared.
Oh, and in case I kick off, could one of y'all remind McDaddy about this post?
First, I want the best coffin they make – perhaps mahogany.  Expensive? Well sure… but, look at it this way; a coffin will be my absolute last gift. And you won't have to buy anything else for me…. ever, so please don't be cheap when picking out my final resting place.
My primary choice would be a Longaberger Basket Casket, but if the Longaberger's haven't yet designed that bad boy, then a top-of-the-line solid mahogany casket will be fine.
This one is perfect.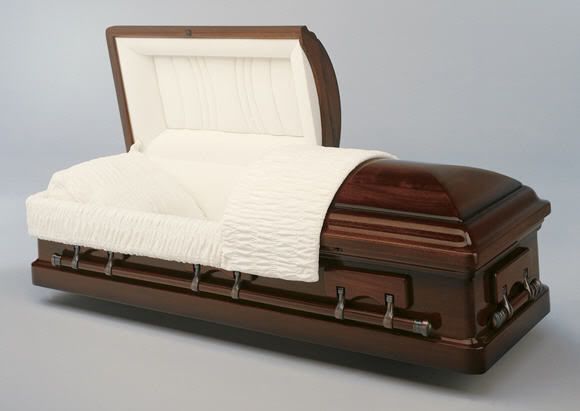 Remember, I said solid and mahogany, not pressed and wood.
When it comes to flowers, I prefer brightly colored gerbera daisies. Lots of them in all different colors. And stink a candle down in the middle for ambiance and so the place will smell good.
While I have mentioned in the past that I would like to be buried in orange, I have since then surveyed my closet and changed my mind. There are four pieces of orange clothing in my closet and none of them are fitting for me to be displayed in all my glory at my last hoo-rah.
With that said, I would like to be buried in red. Red is an attention getter and I want attention on that day. If I am to have all manner of friends and family weeping over my dead body, I want to look good. And whatever you do, I am pleading with you to give me a squirt of Romance – my favorite perfume – by Ralph Lauren. I do not want to smell like corpse.
 
This next one is a biggie!
Please, please, please whatever you do…. do not display me in a funeral home where it smells of flowers and musk. I worship at a wonderful church with my family. I want you to haul my hind-end out Route 21 and roll me right into the sanctuary. There is ample parking for the huge crowd that will surely be there and it is a beautiful place that is special to me.
I have already talked to my mortician friend with strict instructions to NOT wire my mouth completely shut. I watched an embalming one time and I made it clear to him that I needed a little bit of slack in that wire. The thought of having my jaws wired shut for all of eternity is more than I can handle. Sweet hallelujah, they were wired shut for six whole weeks when I was a  senior in high-school and it was not pretty. Not pretty at all.
The musical selections are very important.
I'd like piano or saxophone music played during my viewing. Something soothing – Kenny G or classical piano hymn selections. I want people to feel welcome and comforted. The music will aid in this. During my actual funeral I would like for our choir director or his son to sing,  "It Is Well With My Soul" because, well… it is well. I would also like for someone (Chris) to sing "I Can Only Imagine," because one can really only imagine what they will do when their day comes. I can't imagine what it will be like, all I know is that I'm ready.
For good measure and because I want to drag this thing out as long as possible, I would also like for you to play Selah's Take My Hand, Precious Lord and Lead Me Home.
As the mourners are walking out I like to have "I've Had The Time Of My Life" blaring (from my favorite movie, Dirty Dancing) because well, I have had the time of my life.
Since so much money will be spent on that mahogany casket, it will be necessary to spend a little extra so that I can have a place in the wall. 
That's right, folks. No ground burial for me please.
I do not want people walking all over me. I've had enough of that during my living years. Instead, I'd like to be inside – in the wall – so that I can be cool in the summer and warm in the winter. And preferably at eye level so my nameplate is easy to read.
I've lived a good life, have wonderful friends and an awesome family, and I am ready to meet my maker. As you stand over my dead body in that fabulous mahogany casket, enjoying the smell of my sweet perfume, I want you to think about our good times. In other words, celebrate me!
Okay. I think that's all. For now.
 
Any special wishes your final hoo-rah?