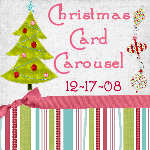 Faith From Walk With Me By Faith is hosting a Christmas Card Carousel today and I thought I'd play along. Although I don't have a picture of our actual Christmas card, I am including our Christmas letter and picture. I am very particular about the cards I send. I hand sign each and everyone and hand write the address on each one. Our Christmas card includes a picture and one of those dreaded Christmas letters, although I didn't have enough of either for all of my cards this year. I send about 200 cards and it is something I really enjoy!
Here is our family Christmas Picture.
This is our Christmas letter that we included in our Christmas cards this year!
Oh, hi. I didn't see you there. It's me, Alex. Since mommy is super busy, she asked me to write this year's edition of the McC Family Christmas Newsletter.  
I guess I'll start with me. I've had a great year which included me turning "free" years old on November 1st.  I have great manners and am slowly learning about conflict resolution. Oh man, everything in this house would be so much easier if they would do things my way. I have so many things to remember. I've learned to count to ten this year and know my ABC's. I sing with the Love Notes at our church and I enjoy having mommy all to myself during the day. I take a nap only when it is absolutely necessary.  
My big "brudder," Stevie started Kindergarten this year and he loves school. His teacher is a sweet lady and he likes her a lot. When he is at home, he enjoys playing with cars, singing karaoke (CARS soundtrack), driving his power wheels JEEP, and helping daddy with various projects around the house requiring tools. His favorite thing is going off-roading with daddy in the jeep. He plays basketball for the youth league in Sissonville, rings with the J.O.Y. Bells at our church and enjoys singing for the Lord during youth services. He will celebrate his sixth birthday in a few days. 
My daddy, Steve is a busy man. He didn't travel quite as much this year and we are so happy about that. He still works for Honeywell and is a Major in the WV Air National Guard. On weekends, he can often be found out in the woods 4-wheelin' in his JEEP, or in the garage fixing something that he broke on the JEEP. At Goldtown Community Church, daddy plays drums or runs the sound board and he is also the web-master for the church web-site – www.goldtowncommunitychurch.com. He took mommy on a surprise trip for their 10th"versary." Mommy had no idea where they were going until they boarded the plane for Minneapolis, Minnesota and then she knew they were headed for the Mall of America. Daddy is preparing for something called a deployment early next year, but I'm not sure what that is. They haven't discussed it with me yet. (Why am I always the last to know?) 
Julie, my mommy, is one busy woman. And by busy woman, I mean, she! never! stops! She loves to drag me around Wal-Mart and she's constantly reminding me that I should be potty training. (Phew! So many demands). She teaches Pioneers at our church, enjoys going to the gym, and she has written a couple of freelance articles for the newspaper. She writes daily on her blog, 'From Inmates To Playdates' and I know she would love for you to stop by. Go to -www.frominmatestoplaydates.com. She is also head homeroom mother in "Steebie's" kindergarten class and volunteers at his school. 
Phew! I hope I didn't leave anything out. God has blessed our family this year and we are so grateful for His love and His mercy in our lives. As a family, we pray for his guidance and his grace as we look ahead to 2009.
 From our home to yours, Merry Christmas!
 Love, Steve, Julie, Stevie and me, Alex.